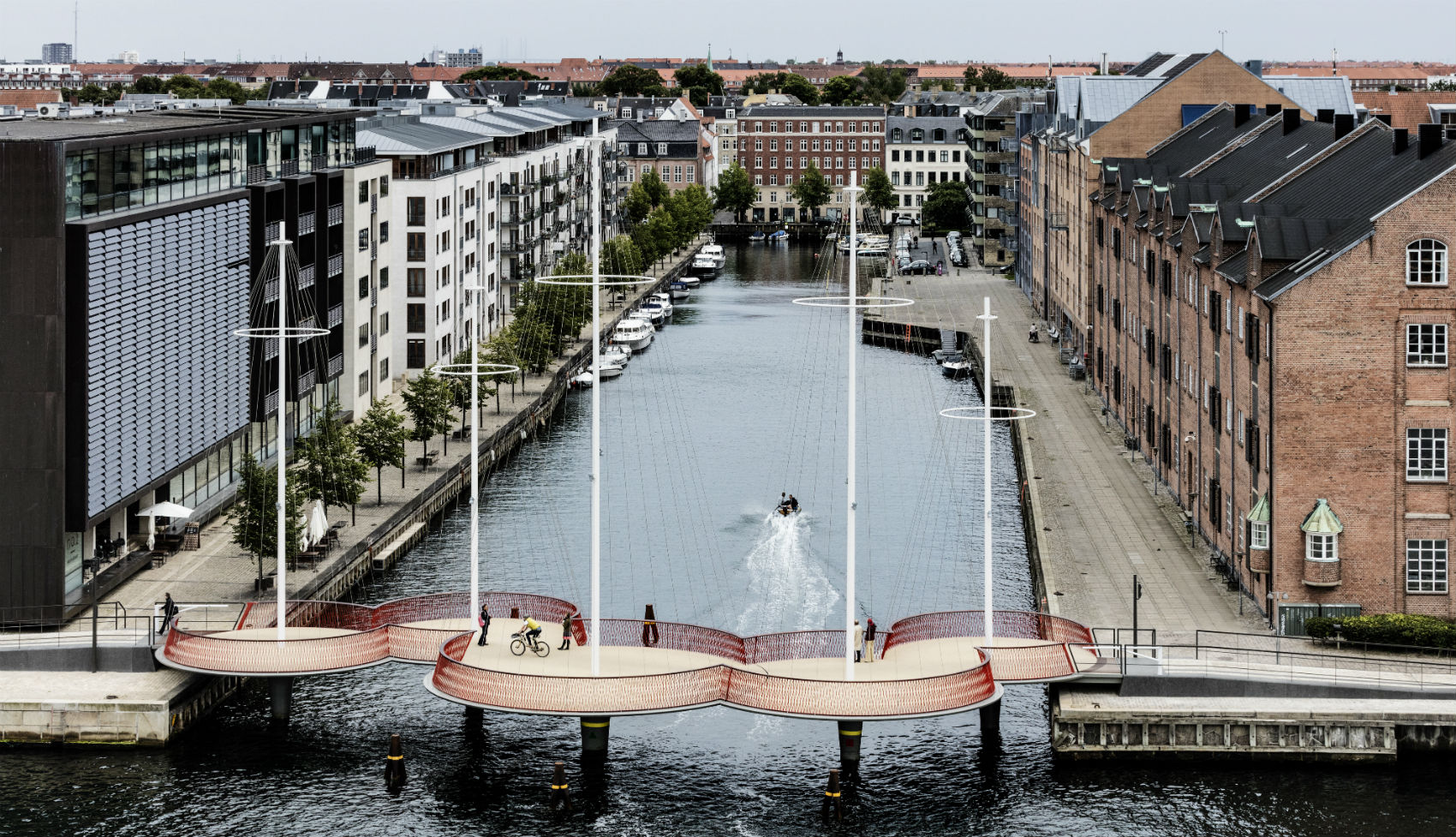 New bike route takes you to great art works in Copenhagen
Kunsthal Charlottenborg is launching its BIKE ART TOUR – a new, curated bike route that takes you to ten public works of art created by contemporary artists such as BIG & SUPERFLEX, Eva Koch and John Kørner. The objective is to highlight leading examples of Danish contemporary art to all those who occupy and visit Copenhagen – locals and tourists alike.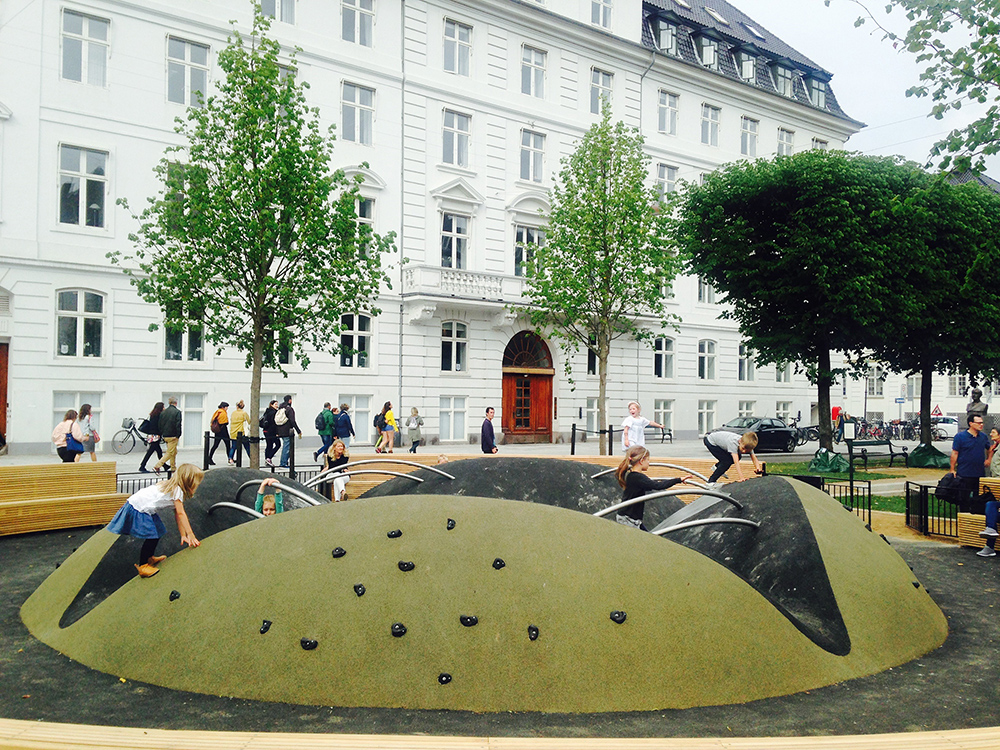 → BIKE ART TOUR can be downloaded for free here.
Copenhagen is known as the most bike-friendly city in the world – and as a famous showcase for Danish architecture and design, attracting tourists from across the globe. However, fewer people realise just how many impressive works of art there are in public places throughout the capital; even the blue bicycle paths were envisioned by an artist, specifically Suste Bonnén.
Kunsthal Charlottenborg is keen to celebrate the art found in public spaces. This is why the art venue now launches the BIKE ART TOUR, encouraging everyone to take in ten important art experiences in various locations in Copenhagen. On the bike tour, visitors can explore new and older works alike, encompassing everything from a playground to a memorial. The works of art selected were created by internationally acclaimed Danish contemporary artists: Eva Koch, Jeanette Ehlers & La Vaughn Belle, Finn Reinbothe, Olafur Eliasson, Kirstine Roepstorff, Paul Tempels, John Kørner, BIG & SUPERFLEX, FOS & Balfelt, and Poul Gernes.
Director of Kunsthal Charlottenborg, Michael Thouber, says:
"Copenhagen has so many fantastic works of public art that choosing just ten was quite a challenge. The final selection all share one common trait: they each tell or represent an important story. This is true of the Monument to Denmark's International Effort after 1948 at the citadel of Copenhagen, of the homeless shelter for men in Istedgade, of the flag of Christiania and the first sculpture of a woman of colour in Frederiksstaden, the Faculty of Humanities at the University of Copenhagen on Amager and the Superkilen park in the Nørrebro district. We hope that the works of art selected will present a different face of Copenhagen and tell different stories about Denmark than those traditionally presented to tourists."
Art works on the BIKE ART TOUR
Eva Koch, Sankt Annæ Wheel (2016). Sankt Annæ Plads.
Jeanette Ehlers & La Vaughn Belle, I Am Queen Mary (2018). West India Warehouse, Larsens Plads.
Finn Reinbothe, Monument to Denmark's International Effort after 1948 (2011). The Citadel.
Olafur Eliasson, Cirkelbroen (2015). Cirkelbroen, Johan Semps Gade.
Kirstine Roepstorff, Klangfrø (2014). University of Copenhagen, Njalsgade 120, B22.
Paul Tempels, Christiania's Flag (1971). Fristaden Christiania.
John Kørner, Woman with 24 problems (2004). Blekingegade, Amagerbro Station.
BIG & SUPERFLEX, Superkilen (2012). Nørrebrogade 210.
FOS & Balfelt, Mændenes Hjem (2006). Lille Istedgade 2.
Poul Gernes, Palads Teatret (1989). Axeltorv.
Hashtags for the bike tour
#bikearttour #kunsthalcharlottenborg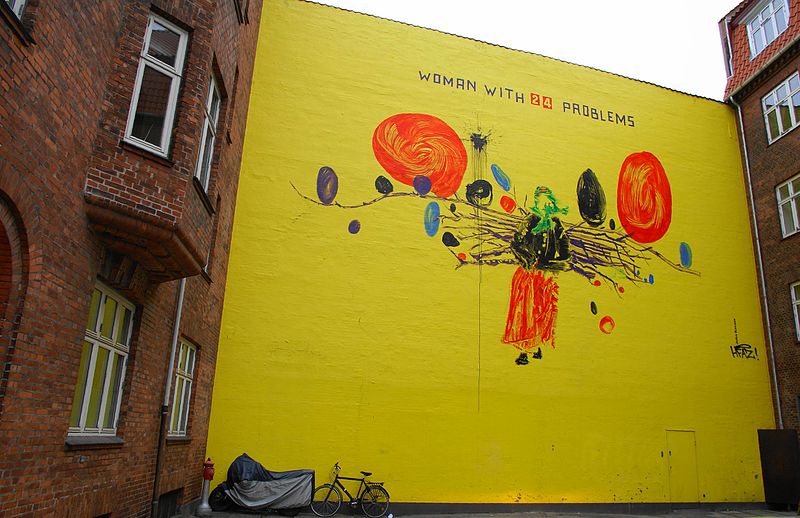 Sankt Annæ Wheel
Sankt Annæ Wheel is a sculptural play structure for toddlers and slightly older children. With this work, Eva Koch demonstrates that sculpture is an important element in the planning of urban spaces and how a sculpture can also invite play. Sankt Annæ Wheel comprises two sculptures – a hilly landscape and a climbing frame – created specifically for Sankt Annæ Plads. Source
I Am Queen Mary
Danish artist Jeannette Ehlers and Virgin Islands artist La Vaughn Belle have teamed up to create the first monumental public sculpture of a black woman in Copenhagen. Called I Am Queen Mary and placed in front of the Danish West Indian Warehouse in Copenhagen, this project is the first collaborative sculpture to memorialise Denmark's colonial impact in the Caribbean and those who fought against it. Source
Monument to Denmark's International Effort after 1948
Located in the citadel of Copenhagen (Kastellet), this monument recognises the effort made by several thousand Danish artists posted abroad on international missions since 1948. Created by artist Finn Reinbothe, the monument comprises three spaces, each serving a specific intended function. The first of these is the official space, where parades are held. The second space features a pilot light in the form of a lit torch and is dedicated to personnel currently deployed abroad. And the third space is intended for the bereaved, featuring inscriptions of the names of the fallen. In the centre of this space, an octagonal well reflects the sky above. Source
Cirkelbroen
Taking his starting point in the Christianshavn district's maritime history and the culture associated with its canals, Olafur Eliasson used the imagery of a sailing boat as his visual point of departure when designing Cirkelbroen (The Circle Bridge). The bridge consists of five staggered circular platforms of various sizes, each with its own 'mast'. The circle represents an alternative to simply moving in a straight line across the water. It encourages pedestrians and cyclists to slow down, offering a space where people can take a brief break and enjoy the view. Instead of simply providing the fastest possible passage across Christianshavns Kanal, the bridge creates a new space in between two areas of the city. Source
Klangfrø
Klangfrø (Sound Seeds) is the title of artist Kirstine Roepstorff's wall installation at the University of Copenhagen. If you pick up a marble from the dispenser at the base of the work and then go to the fifth floor, drop your marble and let it run down the track, you will find that the marble creates surprising sounds, rhythms and delicate notes as it makes its run downward. "The marble is like a seed that a bird might pick up, carry high into the air and then drop, causing something new and unique to sprout where it falls. That is the way of ideas, of thoughts, of everything that the university lives for," says Kirstine Roepstorff. Source
The flag of Christiania
The creation of the flag of Freetown Christiania began in 1971 when Paul Temples and a friend painted a door red and then proceeded to write the word 'Christiania' in yellow paint on it. When the letters turned out to be too thin, they made the three dots over the i's larger. The sign was attached to the flagpole at Fredens Ark (The Ark of Peace). At one point a group of Finnish people, drunk while celebrating the national day of Finland, collided with the flagpole, and so the sign was moved to Tinghuset in the centre of Christiania. A series of three dots can also act as an ellipsis, showing that something has been left out. As such, the flag of Christiania can be seen as a symbol of the unsaid; you need to use your imagination to complete the message. Source
Woman with 24 problems
Artist John Kørner's Woman with 24 problems points to issues that affect many people. At a direct, concrete level we may see the woman as a symbol of the many millions of women across the world who must gather firewood for their small fires every day, but with the addition of an entire suspension bridge (the Danish Storebælt bridge) to her burden, the woman also represents the problems arising for modern women who strive to juggle family life with having a career. Kørner's choice to give the work an English title was deliberate: he wants to communicate internationally. As he himself says, the work is also relevant to our friends from abroad in this country. Source
Superkilen
Superkilen is an urban park project in Copenhagen designed by SUPERFLEX in collaboration with architectural firms Bjarke Ingels Group (BIG) and Topotek1. Residents in the immediate vicinity of Superkilen come from more than 50 countries. SUPERFLEX asked local residents to nominate specific urban objects encountered in either their country of national origin or in their travels abroad, including benches, bins, trees, playgrounds, manhole covers and signage. The nominated objects were either produced as 1:1 scale copies or purchased and transported to the Superkilen. SUPERFLEX travelled with five groups to Palestine, Spain, Thailand, Texas and Jamaica in order to acquire their nominated objects and install them in the park. In total, over 100 different objects from more than 50 different countries are installed in Superkilen. Source
Mændenes Hjem
The Men's Home is a shelter for homeless men near the central station in Copenhagen. It is used by men who are both homeless and have mental and/or addiction problems. Most are drug addicts. The artists set out to create an interior that promoted more fruitful, safer and less hierarchical dialogues. The objective was to play down the 'patient–doctor' relationship and create a dialogue based on equality, common goals and interests. The sign on the façade and the entrance were both part of the artistic new design. Some parts of the interior have since been removed and now form part of the collections of the National Gallery of Denmark. Source
Palads Teatret
A former professor of wall art, Poul Gernes created immersive art and design schemes for many buildings. One of his key works is his colour scheme for the façade of Palads Teatret. Gernes often stated that he would like to see Copenhagen become more colourful – a city where every house was as brightly coloured as Palads Teatret. Gernes is also famous for his interior art and complete colour scheme for Herlev Hospital. Source