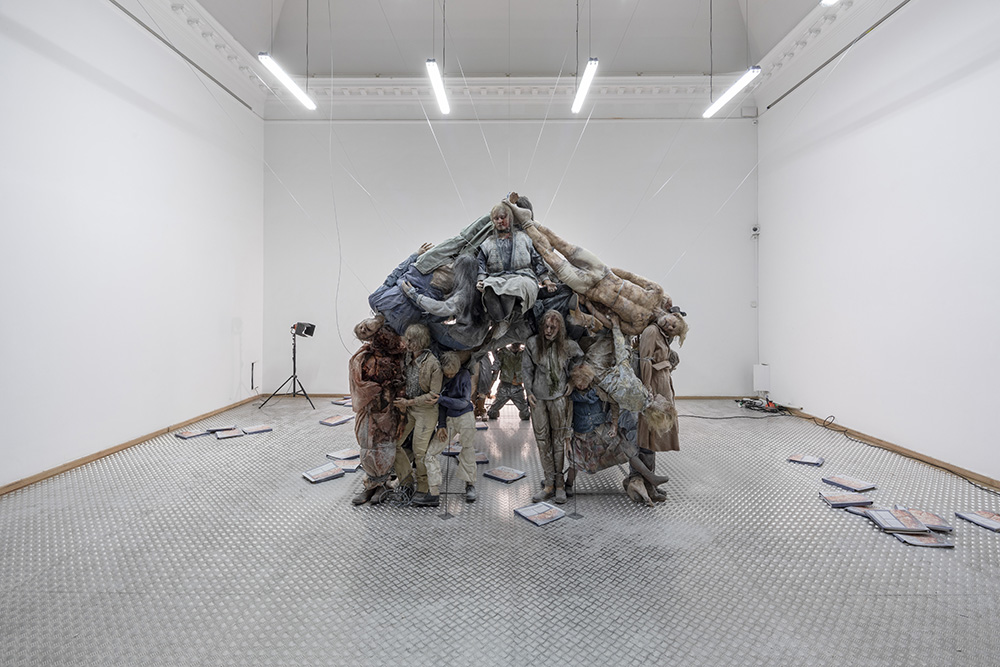 Lars von Trier cavalcade between Christmas and New Year
In connection with the 'Big Art' exhibition, Kunsthal Charlottenborg presents a cavalcade of Lars von Trier's award winning films between Christmas and New Year.
For the newly released film The House That Jack Built, Lars von Trier worked with Bjarke Ingels on the drawings of the house in the film.
The house is constructed of 60 frozen bodies, which the film's main character and serial killer, Jack, has killed throughout the film. Until 13 January, 2019, the original house from the film is exhibited as part of the Big Art exhibition at Kunsthal Charlottenborg.
For this reason, Kunsthal Charlottenborg now presents a cavalcade with a large selection of Lars von Trier's award winning films. The films are presented from the 26–30 December 2018. The film screenings are free with entrance paid to Kunsthal Charlottenborg.
Programme
Wednesday 26 December, 12-7pm:
12-2pm: The Element of Crime (1:44 min.)
As Byzantine as a novel by Kafka, as twisted of plot as any story by Raymond Chandler, Lars von Trier's first full-length feature was immediately accepted for competition in Cannes 1984 and proceeded to win a Prix Technique. Using an English dialogue, Trier's tale runs through water-logged subterranean post-Apocalypse landscapes to the key of everything: penetration and assimilation of the criminal mind. (Source: DFI)
2-5pm: Dogville (2:58 min.)
The beautiful fugitive, Grace (Nicole Kidman), arrives in the isolated township of Dogville on the run from a team of gangsters. With some encouragement from Tom (Paul Bettany), the self-appointed town spokesman, the little community agrees to hide her and in return, Grace agrees to work for them. However, when a search sets in, the people of Dogville demand a better deal in exchange for the risk of harbouring poor Grace and she learns the hard way that in this town, goodness is relative. But Grace has a secret and it is a dangerous one. Dogville may regret it ever began to bare its teeth… (Source: DFI)
5-7pm: Manderlay (2:05 min.)
The story continues from the point where Grace left Dogville. We follow her and her father as they come to Manderlay, a plantation in Alabama where they witness the horrors and injustice of slavery, which compels Grace to intervene. (Source: DFI)
Thursday 27 December, 12-8pm:
12-2pm: The Idiots (1:57 min.)
The modern welfare state is so rationally well-organised that special effort is required if you want to throw off the traces and let your instincts run riot. In Lars von Trier's tragi-comedy a group of young men and women turn their backs on established society and form a commune in order to cultivate their "inner idiots". They provoke the people around them and themselves by pretending to be retarded. But is there more to their antics than casual role-playing? Where does pretence cease and reality begin? Only one member of the group, naïve, emotionally unsullied Karen, manages with bravery and single-mindedness to turn the game into deadly earnest. (Source: DFI)
2-4pm: Melancholia (2:15 min.)
Justine and Michael are celebrating their marriage at a sumptuous party in the home of her sister and brother-in-law. Meanwhile, the planet, Melancholia, is heading towards Earth… (Source: DFI)
4.30-6.30pm: Antichrist (1:48 min.)
A grieving couple retreat to 'Eden', their isolated cabin in the woods, where they hope to repair their broken hearts and troubled marriage. But nature takes its course and things go from bad to worse … (Source: DFI)
6.30-8pm: The Boss of It All (1:39 min.)
In Lars von Trier's comedy the owner of an IT firm wants to sell out. The trouble is that when he established his firm he invented a non-existent company president to hide behind when unpopular steps needed taking. When the potential purchaser insists on negotiating with the 'president' face to face, the owner has to take on a failed actor to play the part. The actor suddenly discovers he is a pawn in a game that goes on to sorely test his (lack of) moral fibre. (Source: DFI)
Friday 28 December, 12-6pm:
12-2.30pm: Nymphomaniac Director's Cut, Part I (145 min.)
2.30-3pm: Break
3-6pm: Nymphomaniac Director's Cut, Part II (180 min.)
Nymphomaniac is the story of a woman's journey from birth to the age of fifty as told by the main character, the self-diagnosed nymphomaniac, Joe. On a cold winter's evening the old, charming bachelor, Seligman, finds Joe beaten up in an alleyway. He brings her home to his flat where he tends to her wounds while asking her about her life. He listens intently as Joe over the next eight chapters recounts the lushly branched-out and multi-faceted story of her life, rich in associations and interjecting incidents. (Source: DFI)
Saturday 29 December, 11am – 4pm:
11am-4pm: The Kingdom I (269 min.)
The director darling of European auteur filmmaking, Lars von Trier, dazzles you with tongue-in-cheek comedy horror as he explores manners and morals among patients and staffers at a gigantic modern hospital. (Source: DFI)
Sunday 30 December, 11am – 4pm:
11am-4pm: The Kingdom II (286 min.)
At the Kingdom Hospital in Copenhagen, everything is as it was – and nothing is. Consultant neurosurgeon Stig Helmer has returned from Haiti, and immediately runs into problems. He faces prosecution for his unsuccesful operation on poor little brain-damaged Mona, and his colleague Rigmor is hell-bent on enticing him into matrimony. Judith's baby, Little Brother, is growing at amazing pace and fighting for his life, just like professor Bondo who has a cancer implant.