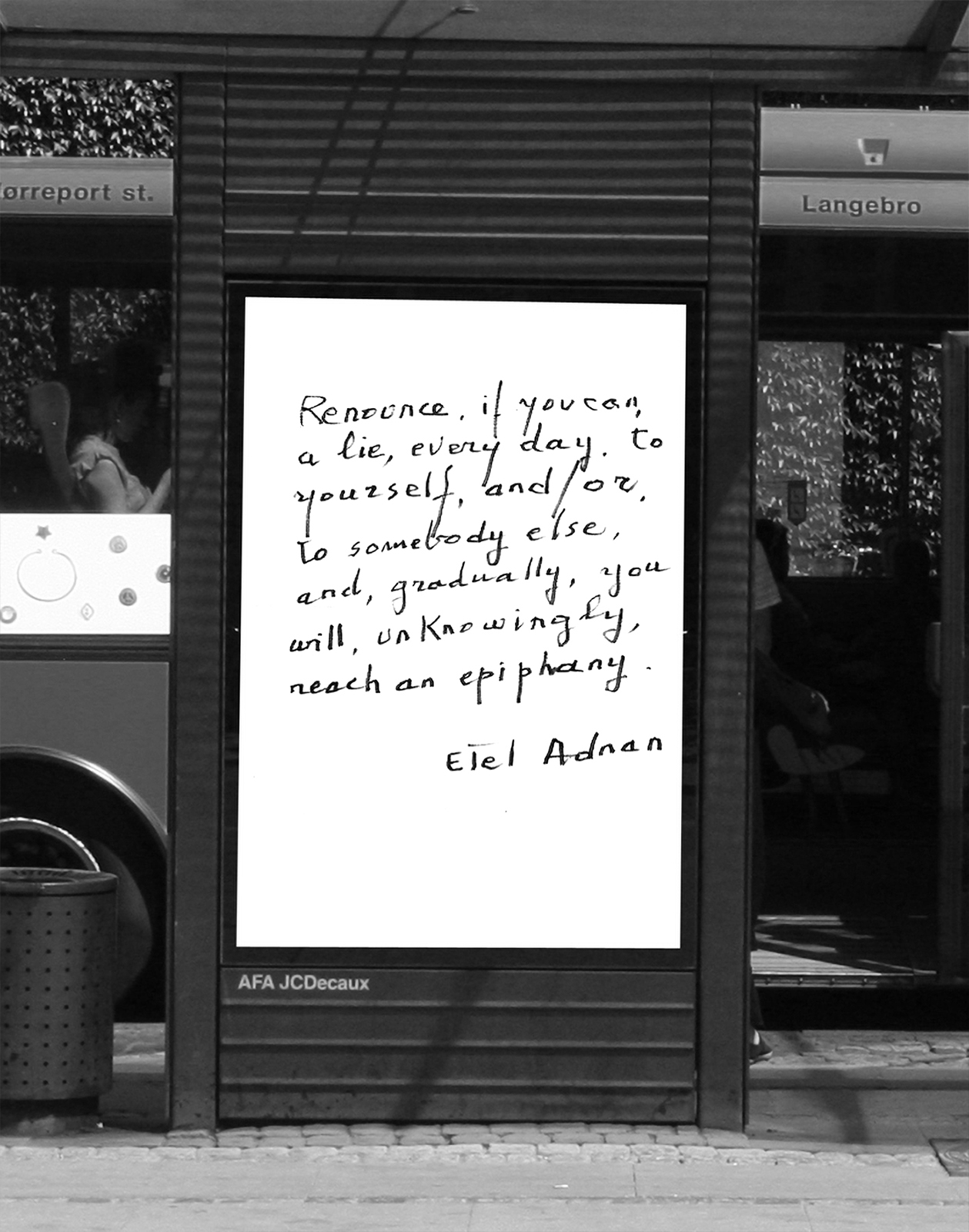 Heartland Festival and Kunsthal Charlottenborg present nation-wide exhibition during the spring elections
Some of the world's most acknowledged artists, including Olafur Eliasson, participate in the exhibition 'It's Urgent!', which is displayed on advertising panels throughout Denmark during the spring elections for the EU Parliament and the Danish Parliament. The exhibition is curated by star curator Hans Ulrich Obrist.
Some of the world's most acknowledged artists comment on the current political situation on advertising panels throughout Denmark. It takes place as a part of the exhibition It's Urgent! curated by Hans Ulrich Obrist.
Hans Ulrich Obrist has multiple times been voted number 1 in the art world by the respected art magazine ArtReview that every year makes a top 100 list of the art world's most influential people. Hans Ulrich Obrist, who is director at Serpentine Galleries in London, performed last year in conversation with Salman Rushdie at Heartland Festival and has curated the exhibition 'TAKE ME (I'm Yours)' at Kunsthal Charlottenborg previously.
The exhibition will be presented in the streets of Denmark during the upcoming election for both the EU Parliament and the Danish Parliament. It is no coincidence, because never has the artists' voice been more necessary in the political debate than right now, Hans Ulrich Obrist explains:
"If there was ever a time that the world needed artists, it is now. We need their radical ideas, visions, and perspectives in society".
The participating artists originate from various places in the world:
Etel Adnan (Lebanon/USA), Sophia Al-Maria (Qatar/USA), Tania Bruguera (Cuba), Tony Cokes (USA), Olafur Eliasson (Denmark), Hans Haacke (Germany), Lauren Halsey (USA), Arthur Jafa (USA), Eileen Myles (USA), Precious Okoyomon (England), Wolfgang Tillmans (Germany), Rirkrit Tiravanija (Argentina/Thailand) & Nora Turato (Croatia).
The exhibition is organized by Kunsthal Charlottenborg and Heartland Festival in collaboration with AFA JCDecaux that distribute the works at hundreds of billboards throughout Denmark.
Program director at Heartland Festival, Ramus Quistgaard, and director at Kunsthal Charlottenborg, Michael Thouber, says:
"We have for a long time wanted to spread the potentials of contemporary art to more people in Denmark. This exhibition not only gives us the opportunity to show some of today's best artists to a large number of people in Denmark, but also to spread the art's poetic and political voice in a spring characterized by large political events".
The works are exhibited on advertising panels throughout Denmark in May and June, and the exhibition is shown as a whole during Heartland Festival from 30 May – 1 June 2019 and subsequently in the court yard of Kunsthal Charlottenborg from 18 June – 11 August 2019.
The exhibition is supported by The Danish Art Foundation and Det Obelske Familiefond. Heartland's art programme is supported by The Beckett Fonden and Øernes Kunstfond.
Find information about the exhibition here.