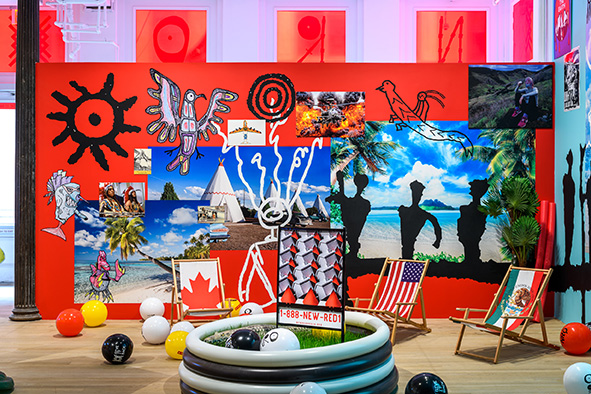 New Red Order connects Indigenous peoples from Oceania to Scandinavia in new international group exhibition
Kunsthal Charlottenborg has invited New Red Order to curate an international group exhibition and a brand new film programme on the occasion of CPH:DOX, Copenhagen International Documentary Film Festival. The exhibition occupies the entire north wing from March 23 - August 7 2022 and connects artists, works and experiences from different places around the world from Kalaallit Nunaat and Sápmi to Hawaii.
New Red Order is an unusual institution: a public secret society of rotating and expanding membership, including core contributors Adam Khalil, Zack Khalil, and Jackson Polys, who confront colonial structures with incisive humour, to promote Indigenous futures.
In connection to the exhibition, New Red Order says: "Reflecting on Denmark's 300-year colonial history, we wanted to address the continued legacy of the colonization in Kalaallit Nunaat and the Sami people in Sápmi. Although our recent research has been focused on 'the North' the exhibition takes an 'Internationalist' perspective on 'Indigeneity' in order to celebrate and complicate similarities and differences. We have invited Indigenous and 'non-Indigenous' artists from across the world to participate in the exhibition. Simultaneously, we have looked towards other kinds of visual culture that exemplify, celebrate and complicate a contemporary global Indigenous presence and future."
The exhibition New Red Order Presents: One if by Land, Two if by Sea features the work of an international group of emerging and established visual artists: Asinnajaq, Hanan Benammar & Uyarakq, Minik Bidstrup, Sean Connelly, Carola Grahn, Julie Edel Hardenberg, Inuk Silis Høegh & Asmund Havsteen-Mikkelsen, Fox Maxy, Joar Nango, New Red Order, Laura Ortman, Solvognen, Krista Belle Stewart, Tanya Tagaq, Tarrak, Uvagut TV.
The exhibition presents films, sculpture, performance, installations, music videos, photography and much more. Contributions from artists like Krista Belle Stewart investigate the inappropriate desire in Europe to 'play Indian', other works like Fox Maxy's film Maat raise issues of 'Landback' all the while exhibiting a sense of contemporaneity and Indigenious excellence, while projects from Hanan Benammar and Uyarakq seek to reimagine historical colonial figures in more nuanced and sometimes humorous light. Issues surrounding memory, history, and colonial legacies are upended in favor of emphasizing contemporaneity and a speaking back to the monolithic understanding of history that many Indigenous people have been asked to internalize. Themes include land rights, history-writing, religion, public monuments, Indigenous peoples across nation borders, support, independence and survivance.
New Red Order Presents: One if by Land, Two if by Sea seeks to bend and break temporal and geographical conditions, all the while maintaining a nuanced specificity to place. The space between this shared specificity creates a territory that could spawn new approaches to 'decolonial' work and possibly foster other more meaningful and intuitive formulations.
Read more about the exhibition here. 
Adam Khalil and Zack Khalil (Ojibway) and Jackson Polys (Tlingit) of New Red Order are based in New York City. Their works have been presented at prominent art institutions and film festivals including Artists Space and the Museum of Modern Art in New York, Haus der Kulturen der Welt in Berlin, Museum of Contemporary Art Detroit, Walker Art Center in Minneapolis, Kunstverein in Hamburg, the Toronto Biennial 2019, the Whitney Biennial 2019, the New York Film Festival, and the Sundance Film Festival.
The exhibition is accompanied by an ambitious programme of public events including a large event on 25 March and a film programme curated by New Red Order in Kunsthal Charlottenborg's cinema, 6 April – 15 May 2022.
New Red Order Presents: One if by Land, Two if by Sea is curated by New Red Order in conversation with freelance curator Irene Campolmi and Henriette Bretton-Meyer, Kunsthal Charlottenborg.
The exhibition is realised in collaboration with CPH:DOX and supported by Art Hub Copenhagen, Augustinus Fonden, Det Obelske Familiefond, Knud Højgaards Fond, Office for Contemporary Art Norway, Statens Kunstfond, William Demant Fonden.
Events in relation to the exhibition:
25 March 2022 at 21.30-23.30: TED Talks on Acid – event in CPH:DOX's Social Cinema
TED Talks on Acid (TToA) is an innovative live event format that weaves between public assembly, academic symposium, music and film festival and artists talk. Artists, activists and academics share the line-up with rappers and noise musicians in order to present a discursive and hopefully hallucinatory trip to questioning the ongoing legacy of Danish colonialism in all of its forms. Contributors in alphabetical order: Sean Connelly, Mathias Danbolt, Katrine Dirckinck-Holmfeld, Marie Kølbæk Iversen, Lars Jensen, Lars Bang Larsen, Asmund Mikkelsen, Virgil B/G Taylor, Uyarakq, and others.
Hosts: Irene Campolmi and Mathias Kryger. After the event CPH:DOX will throw their opening party at Kunsthal Charlottenborg. Further info here.
6 April – 15 May 2022: The Informants – film programme curated by New Red Order
For Indigenous peoples, the camera is a dangerous weapon, one that has been wielded against them since the device's inception. Anthropology's obsession with preserving images of so-called vanishing cultures, through ethnographic films or, relatedly, archives filled with boxes of ancestral remains, has long been a tool used to colonize and oppress Indigenous peoples.
In the works assembled for the film programme The Informants, the power of Indigenous people claiming the camera for themselves is explored. Further info here.