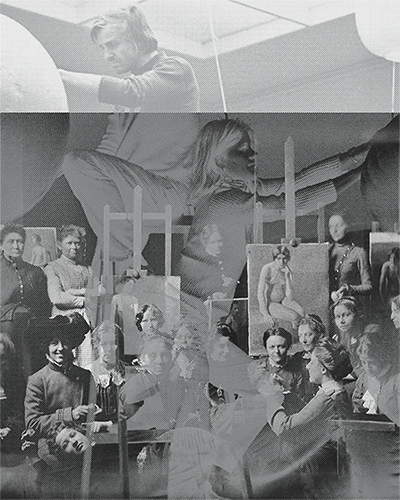 Kunsthal Charlottenborg rewrites history in the autumn exhibitions
Look forward to experiencing a comprehensive exhibition with a string of both all-new and historic works on the occasion of the art center's 140th anniversary, as well as an international group exhibition that, based on Charlottenborg's location, connects botanical histories with human and cultural movements through time.
Seeds and Souls
16 September 2023 – 18 February 2024
Presented at Kunsthal Charlottenborg, which was built in the late 19th century on the grounds of Copenhagen's then botanical garden, the exhibition draws parallels between original soil and vegetation – their extraction, consumption, transplantation, and mutation into new environments – and the phenomena of cultural dispersions anchored within histories that continue to impact us today. Participating artists: Brook Andrew, Shiraz Bayjoo, Sonia Boyce, Ishita Chakraborty, Annalee Davis, Michelle Eistrup, Sheroanawe Hakihiiwe, Linda Lamignan, Yvon Ngassam.
The exhibition is curated by Christine Eyene, Lecturer in Contemporary Art at Liverpool John Moores University and Research Curator at Tate Liverpool. Further info here.
Full of Days – Charlottenborg Jubilee
30 September 2023 – 14 January 2024
This year, 140 years have gone by since Kunsthal Charlottenborg – or Charlottenborg Exhibition Building as its was called in 1883 – was completed. Charlottenborg now celebrates its long history with the exhibition Full of Days that embraces chaos and through a cacophony of voices forges intuitive connections between historical moments and less-remembered shows, stories and events. Participating artists: Louise Alenius, Gunnar Aagaard Andersen, Pia Arke, Nina Beier, Benedikte Bjerre, Anne Marie Carl-Nielsen, Claus Carstensen, Valentina Desideri & Denise Ferreira da Silva, Jason Dodge, Emil Elg, Inge Ellegaard, Sahar Jamili, Asger Jorn, Maryam Jafri, On Kawara, Per Kirkeby, Nina Steen Knudsen, Arthur Köpcke, Eva La Cour, Isabel Lewis & Dirk Bell, Marie Luplau, Asta Lynge, Susanne Mertz, Simon Dybbroe Møller, Ursula Munch-Pedersen, Emilie Mundt, Astrid Noack, Olivia Holm-Møller, Palle Nielsen, Astrid Noack, Lene Adler Petersen, Henrik Plenge Jakobsen, Finn Reinbothe, Susanne Ussing, Åbäke, and many others.
The exhibition is curated by Julia Rodrigues and Francesca Astesani from South into North. Further info here.
Practical information
Exhibition program autumn/winter 2023-2024
Kunsthal Charlottenborg, Kongens Nytorv 1, 1050 Copenhagen K
Free admission on Wednesdays at 17.00-20.00 and to all exhibition openings.