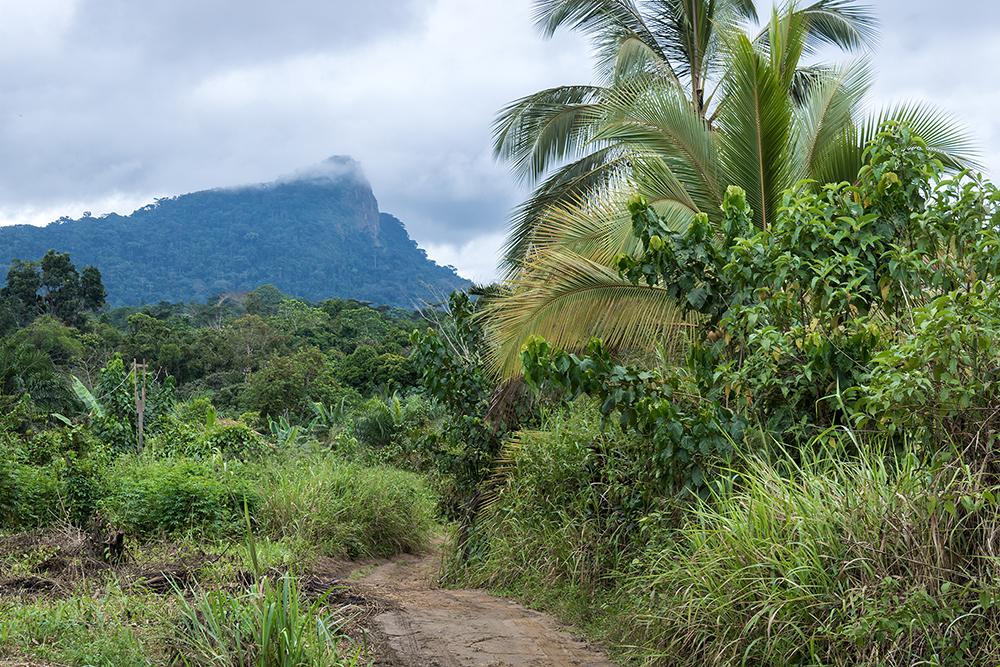 Botanical histories are connected with colonial legacies in new exhibition at Kunsthal Charlottenborg
Kunsthal Charlottenborg look forward to open the doors for the autumn season presenting the international group exhibition Seeds and Souls curated by Christine Eyene featuring artists from Australia, Barbados, Cameroon, India, Mauritius, United Kingdom, Venezuela and more. The opening takes place 15 September at 17.00-20.00.
The exhibition Seeds and Souls proposes new explorations into the connections between botanical histories, colonial legacies and diasporic experiences. Presented at Kunsthal Charlottenborg, which was built in the late 19th century on the grounds of Copenhagen's then botanical garden, the exhibition draws parallels between original soil and vegetation – their extraction, consumption, transplantation, and mutation into new environments – and the phenomena of cultural dispersions anchored within histories that continue to impact us today.
The artists in the exhibition reflect on these questions through various forms of tangible and immaterial excavations, the uncovering of overlooked and sometimes contentious histories, and through 're-rooting' as a way of reclaiming agency over these histories and cultural expressions.
Participating artists: Brook Andrew, Shiraz Bayjoo, Sonia Boyce, Ishita Chakraborty, Annalee Davis, Michelle Eistrup, Sheroanawe Hakihiiwe, Linda Lamignan, Yvon Ngassam.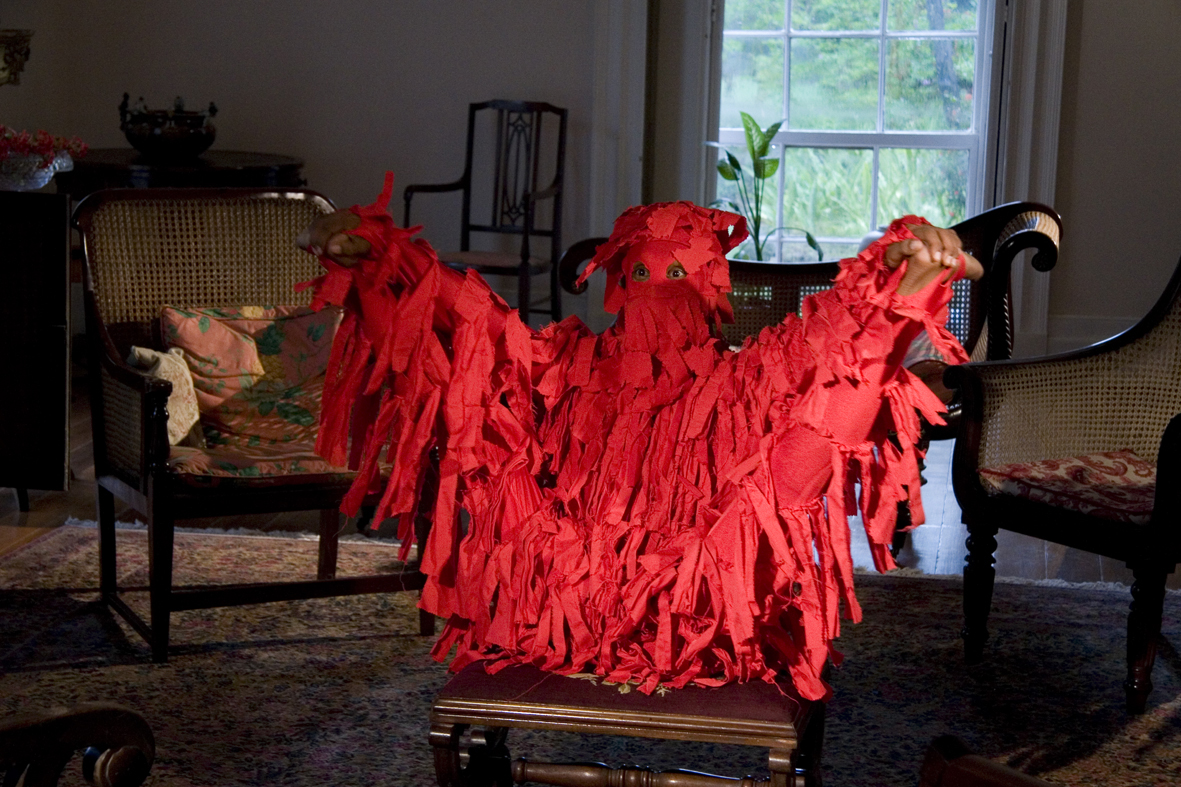 Visitors can look forward to encounter large scale and sculptural textile installations, video and mixed media pieces, as well as paintings.
The paintings and sculptures in Brook Andrew's installation Ngaay Ngajuu Dhugul Birra (To See My Skin Broken) (2022) seek to create a mise-en-scène of continuing culture and new imaginings free from mistreatment, misinterpretation and romanticism, presenting the complicated and broken processes of accessing and piecing together objects held in museums.
Zot Konn – Yeman (They know – the wise) (2022) by Shiraz Bayjoo is a sculptural textile installation and video piece showing images of plants, archives, and architectures found at the Royal Botanic Gardens, Kew in London, and a dance performance by Nicolas Faubert, interrogating the transplantation of species from Mauritius to the UK during colonial rule and their current place in the nation's archives.
Sonia Boyce's video Crop Over (2007) and Shaggy Bear large scale wallpaper are about the Barbadian festival from which the work takes its title. The artist's interest in Crop Over carnival lies in the fact that it is a public festival directly originating from the conditions of plantation life in the Caribbean, unlike other carnivals that have been co-opted from the religious festivals of Lent.
Ishita Chakraborty's installation Exotic Plants in the Garden – What to Do? (2022-) deals with migration, human rights, and ecology, and addresses the constructions of borders and crossings, and the entangled histories of xenophobia, racism, and the notion of 'species invasions'.
Through drawing, walking, making (bush) teas, and growing living apothecaries, Annalee Davis's installation A Hymn to the Banished (2022) insinuates an interlacing of imperial linkages between Barbados and Scotland, inferring centuries of social disruption caused by the plantation system and the colonial project.
Michelle Eistrup's installation Mineral Emmisaries (2021) is a series of sculptural lightboxes presenting images of Australian rocks set against colourful backgrounds. Those minerals take on a cultural significance. They become emissaries of the place from which they were extracted or within which they are embedded.
Sheroanawe Hakihiiwe intends to preserve, care, archive, and translate images and materials of community cultural values, producing drawings on handmade paper with fibers such as sugarcane, cotton, mulberry, banana, and corn that depict Yanomami cosmology and form a true inventory of the immaterial heritage of his people.
The triptych Petroleum Landscapes: If we let it burn (2023) by Linda Lamignan consists of wooden panels covered in petroleum wax applied in a manner that creates textured patterns of varied browns. The work deals with the personal and political implications of the oil industry.
Yvon Ngassam's film Lolodorf, A Colonial History (2023), and the accompanying photographic series, explores the history of Lolodorf, a small town bordering a forest region in the south province of Cameroon. Weaving together oral history, myths, facts, and collective memory, Ngassam's work reflects on the importance of retrieving, preserving, and transmitting vanishing histories.
Seeds and Souls is curated by Christine Eyene.
The exhibition is supported by The Augustinus Foundation, The Danish Arts Foundation, The Obel Family Foundation, The William Demant Foundation, The Aage & Johanne Louis-Hansens Foundation.
Practical information
Seeds and Souls
16 September 2023 – 18 February 2024
Opening: 15 September at 17.00-20.00
Kunsthal Charlottenborg, Kongens Nytorv 1, 1050 Copenhagen K
Free admission to the opening
Further info here
Biographies
Christine Eyene (b. 1970 in Paris, France, based in London and Liverpool) is an art historian and curator. She is Lecturer in Contemporary Art at Liverpool John Moores University and Research Curator at Tate Liverpool. She is also a PhD candidate in History of Art at Birkbeck, University of London. Past exhibitions include Calling in Question, American Arts Center, Casablanca (2022); Breaking the Mould: New Signatures from DRC at 198 Contemporary Arts and Learning in London (2021); Summer of Photography 2018: 'RESIST! The 1960s protests, photography, and visual legacy' at Bozar, Brussels (2018); Sounds Like Her: Gender, Sound Art and Sonic Cultures, New Art Exchange, Nottingham and UK touring (2017-2020); Murder Machine (as part of EVA International, artistic director Koyo Kouoh), Ormston House, Limerick (2016). She also sits on several selection panels and advisory committees such as the jury of the Turner Prize 2022 and the selection committee of 1-54 Contemporary African Art Fair.
Brook Andrew (b. 1970 in Sydney, Australia, based in Melbourne, Australia and Paris, France) recently participated in the 12th Liverpool Biennial entitled UMoya: The Sacred Return of Lost Things and the 15th Sharjah Biennial themed Thinking Historically in the Present. In 2021, he presented his solo DIWIL at Murray Art Museum Albury, in Albury Australia. His work has also been exhibited at Gropius Bau, Berlin, and Seoul Museum of Art, Seoul. In 2020, he curated the 22ndSydney Biennale and received the 2020 Australia Council Award for Visual Arts.
Shiraz Bayjoo (b. 1979 in Beau Bassin, Mauritius, based in London) presented the solo exhibition Zot Konn – Yeman at the Diaspora Pavilion for the 59th Venice Biennial in 2022. He has recently participated in group exhibitions at Gropius Bau, Berlin; Deichtorhallen, Hamburg; Zeitz MOCAA, Cape Town as well as the 5th Dhaka Art Summit; 15th Sharjah Biennial; 13th Biennale of Dakar and the 21st Biennale of Sydney. In 2021 he was awarded the Smithsonian Artist Research Fellowship (USA).
Sonia Boyce (b. 1962 in London, based in London, UK) presented in 2020 her solo exhibition in the castle of my skin, which took place at eastside projects in Birmingham, UK. The exhibition was later presented at Middlesbrough Institute of Modern Art, Middlesbrough, UK. Last year she represented Britain at the 59th International Art Exhibition, La Biennale di Venezia, which featured a new commission that earned her the Golden Lion for Best National Participation. Boyce is also a pioneering figure of UK's 1980s Black Art movement that has had a major impact on British and global art.
Ishita Chakraborty (b. 1989 in West Bengal, India, based in India and Switzerland) recently presented her solo exhibition The Scent of Rice at Kulturfolger in Zürich, Switzerland. In addition, last year she participated in the group exhibition The Mouth is For Speaking alongside with WE ARE AIA. The exhibition took place at Helmhaus in Zurich, Switzerland. In 2021, she received the Credit Suisse Förderpreis (award) in Switzerland.
Annalee Davis (b. 1963, in Saint Michael, Barbados, based in Barbados Island, Barbados) presented her solo exhibition Re:wilding at Haarlem Artspace in Wirkworth, UK in 2020. She recently participated in the 15th Sharjah Biennial and the group exhibition Linhas Tortas with, among other artists, Pacita Abad (Basco, Philippines) and Antony Gormley (London, UK) at Mendes Wood in São Paulo, Brazil. In 2022, she participated in Spirit in the Land at the Nasher Museum of Art, Duke University, North Carolina, USA. She has also exhibited at CAF, Venezuela, Urguray and Bolivia, as well as Hayy Jameel, Saudi Arabia.
Michelle Eistrup (b. 1969 in Denmark, based in Copenhagen) presented in 2022 her solo exhibition Entangled in the Underground in Lisbon, Portugal. In addition, she has exhibitied at AGWA, Art Gallery of Western Australia (Perth); Arnolfini (Bristol); Documenta15 in Kassel, Germany; Moderna Museet in Stockholm, Sweden, and The National Gallery of Jamaica in Kingston, Jamaica.
Sheroanawe Hakihiiwe (b. 1971 in Sheroana, Venezuela. Based in Mahekoto-Teri, Venezuela) recently presented his solo exhibition Todo esto somos nosotros at Museo de Arte de São Paulo (MASP) in São Paulo, Brazil (2023); Chosen Memories: Contemporary Latin American Art from the Patricia Phelps de Cisneros Gift and Beyond at MoMA in New York. (2022); 59th Biennale di Venezia in Venice, Italy; 23rd Biennale of Sydney, Sydney, Australia; Arctic / Amazon: Networks of Global Indigeneity, The Power Plant, Toronto, Canada. In 2019, he received the 12thIlly Sustain Art Prize in Madrid.
Linda Lamignan (b. 1988 in Stavanger, Norway, based in Copenhagen, Denmark). She recently participated in a group exhibition Contexts of Existence, which was exhibited at Musée d'art contemporain de Baie-Saint-Paul in Québec, Canada. In addition, she participated in the group exhibition Experiences of Oil, which was exhibited at Stavanger Kunstmuseum in Starvanger, Norway, and other group exhibitions at Entretemps Studio in Marseille, France, and Lunds Konsthall in Lund, Sweden.
Yvon Yvon Ngassam (b. 1982 in Bangangte, Cameroon, based in Douala, Cameroon) presented last year his solo exhibition Portrait of community – Features of a land at the Municipal Foyer, Lolodorf, Cameroon. He recently participated in the group exhibition Entre rigidité et fragilité at Cinéma El Hilal, Biennale africaine de la photographie de Bamako-off in Bamako, Mali. In 2022 he was awarded the Photographe de l'année award at the third Cameroonian Cultural Awards in Cameroon.