Kunsthal Charlottenborg launches new app
Kunsthal Charlottenborg's visitors can now explore the current exhibitions 'Europe Endlos' and Jesper Just: 'Servitudes' with a new app, offering plenty of information in an intuitive format, right at your fingertips. In a wealth of images, texts and audio content, artists and curators share their reflections, offering many ways of approaching the art.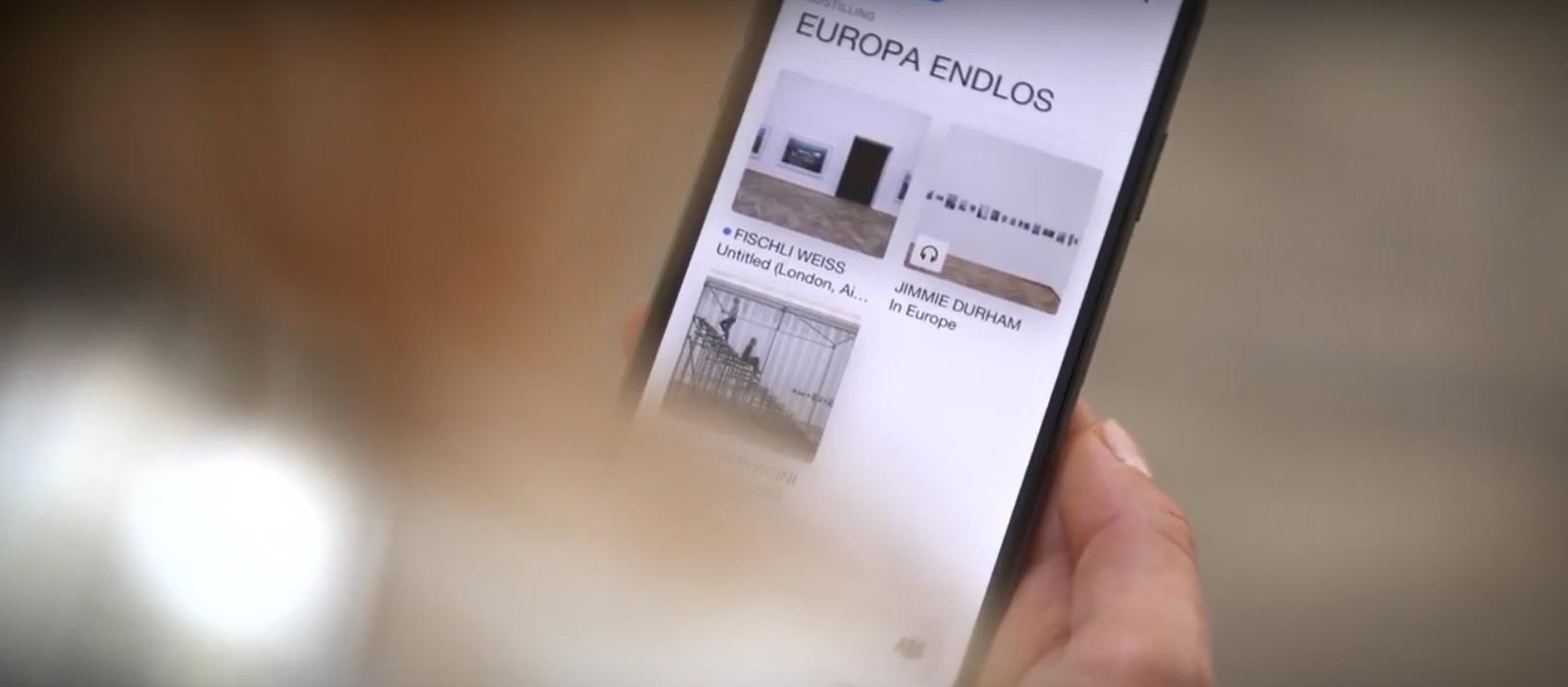 Kunsthal Charlottenborg wants to enable visitors to immerse themselves in the realm of art in ways that engage multiple senses – and is approachable and intuitive. To this end, Kunsthal Charlottenborg has developed a new app, 'Kunsthal Charlottenborg'. Created by the app developers Loby, the new offering presents the venue's exhibitions in a digital universe.
Director of Kunsthal Charlottenborg, Michael Thouber, says:
'We strive to be the tomorrow's art venue – the next generation's choice. Our exhibition programme reflects that ambition already, incorporating art by new talents as well as established artists. Our new app is part of the growing digital component of our presentation and dissemination efforts, allowing visitors to access some of the best contemporary art and some of the strongest voices in art right now on their own mobile phones'.
Flexible art information
The app not only lets users read about Kunsthal Charlottenborg's exhibitions and the works of art presented there: it also lets you listen to the curators' and artists' personal reflections, expressed in everything from presentations, artistic and political deliberations to poetry readings. You can also read about the rich history of Kunsthal Charlottenborg and listen to director Michael Thouber's personal welcome. All this can be done while exploring the exhibitions in real life – or from the comfort in your own home if you want to prepare for or digest your visit.
Kunsthal Charlottenborg's app makes use of iBeacons – a smart technology with ensures that when used within the exhibition, the app shows information about works that the visitors are close to. Visitors essentially get their own personal art guide right on their smartphone. They can use the app to tailor their guided tour to their needs, picking the pace and language that suits them best – and they are free to decide whether they want to read or listen to the information.
Kunsthal Charlottenborg's curator Henriette Bretton-Meyer is enthusiastic about the app's extensive  potential as a communication tool for the venue's exhibitions. She says:
'New ways of communicating and disseminating information can create new relevance, value and meaning for visitors. The digital element of the app allows us to accommodate and explore the many themes of our exhibitions in greater detail, allowing us to incorporate more nuances; for example in the form of audio clips featuring interviews with the participating artists. You can also access the app before and after your visit, allowing you to prepare for and extend your art experience – many visitors greatly appreciate this opportunity'.
Facts about the Kunsthal Charlottenborg app
– The app contains information about current exhibitions, the works featured and the overall history of Kunsthal Charlottenborg.
– The app is available in all official languages. Audio clips are available in Danish and/or English.
– The app has a 'group listen' function, enabling an entire group to listen to audio clips simultaneously.
– The app is free. Available in App Store (iPhone and iPad) and Google Store (other smartphones).
– If you don't have a suitable device with you, you can borrow an iPad from the ticket desk.
– Kunsthal Charlottenborg has free Wi-Fi.