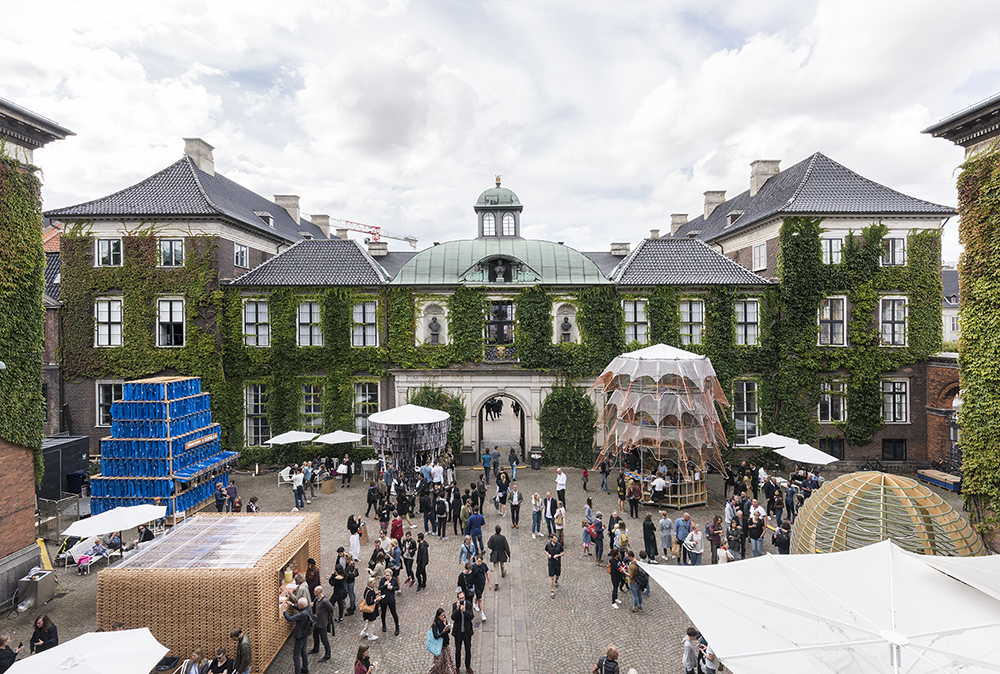 CHART 2021
From the 27th – 29th of August CHART once again take over Kunsthal Charlottenborg, presenting a broad program including an art fair, events, talks and performances. The program presents several new initiatives, which strengthen the collaboration and development across the art scene. Experience 26 leading Nordic galleries and 11 artist driven spaces at the art fair.
Explore the new art book fair exposing the best in the scene of artist books and print in the Banquet Hall at Charlottenborg. Join us for talks, performance, concerts and outdoors art-, design- and architectural installations such as the six metre floating sculpture by Bella Rune (SE) and a series of gigantic sculptures by Sandra Mujinga (NO).
EXPERIMENTAL
The 2021 fair will include presentations by 26 leading Nordic contemporary art galleries, as well as 11 artist-run and alternative gallery spaces as part of this year's new Experimental section. Showcasing work by both emerging and internationally established artists, and spanning the realms of photography, painting, video, sculpture, performance and more, the fair will present works by more than 100 artists in the historic halls of Kunsthal Charlottenborg.
The 11 artist-run galleries are:
Bonamatic (DK), C.C.C. (DK), Galleri Cora Hillebrand (SE), henProjects (SE), JIR SANDEL (DK), Kunstplass Contemporary Art [Oslo] (NO), Lagune Ouest (DK), MELK galleri (NO), Monitoimitila O. (FI), NEVVEN (SE), Þula (IS). Further info here.
ART BOOK FAIR
For the first time CHART opens the door to a new art book fair, where independent publishers and established art book publishers will show off the best of art books and prints in the banquet hall on Charlottenborg castle. A total of 27 Nordic exhibitioners will be present at the book fair, where there will also be talks, debates and book signings. The audience will be able to use a ten-meter long couch with a new embroidered work of art by Loji Höskuldsson (IS) named Aftermath of a Garden Party created with HAY for Chart 2021. Further info here.
PERFORMANCE & LIVE PROGRAM
The live program is packed with performances. The artist duo Hesselholdt & Mejlvang (DK) will perform Two Fools and a Pool, which has been developed especially for CHART 2021. The scene will also be taken by the artist Jockum Nordström (SE), who will be performing with his band for the first time in Denmark. A CHART house band will be playing Friday and Saturday evening led by Josephine Phillip & Hannah Schneider with some of Copenhagen's leading musicians and singers.
Andersen's (DK) will dedicate their presentation to performance art with Esben Weile Kjær (DK), Lilibeth Cuenca Rasmussen (DK), Christian Falsnaes (DK) and Nicholas Grafia (PH) who will be exploring the crossover between performances and sculpture, and will be exhibiting relics of and recipes for performances. Further info here.
TALKS
CHART will present a series of talks which will dissect and discuss the future of a reconnected art world post-pandemic. Talk participants from the international art scene include Tessa Praun (Magasin lll), Janne Sirén (Buffalo AKG Art Museum), and curator Fatoş Üstek. World-renowned architects Shohei Shigematsu (OMA) and Bjarke Ingels (BIG) will discuss building museums for the future, in a talk moderated by editor-in-chief Robert Thiemann (Frame Magazine).
In addition, a series of live, in-person artist talks will introduce a deeper understanding of the artistic practice of some of the leading artists working across the Nordic art scene.
ARCHITECTURE
Five teams of young architects, designers and artist will present temporary pavilions under the theme of Social Architecture which will explore new frameworks for social interaction and social experiences. The finalists were chosen by an international jury consisting of Bjarke Ingels, founder and partner at BIG (DK); Shohei Shigematsu, partner at OMA (JP); artist Nina Beier (DK); designer Sabine Marcelis (NL); Simon Lamuniére, Director of OPEN House in Geneva (CH); and David Zahle, partner at BIG.
The five pavillions will work as bars, restaurants and meeting place, driven in collaboration with some a Copenhagen's local gastronomic pioneers.
INFORMATION
Talks, performances and events in the courtyard are available for everybody – the rest of the programme requires a CHART 2021 ticket.
Find the full program here.
Opening hours
Preview 26 Aug: 11-18 (by invitation only)
27. august: 11-19 (gården er åben til 23)
28. august: 11-18 (gården er åben til 23)
29. august: 11-17
Buy your ticket here. The live program is free.
OBS Please note that you have to bring a valid corona passport