Kunsthal Charlottenborg launches new nationwide BIENNALE in collaboration with AFA JCDecaux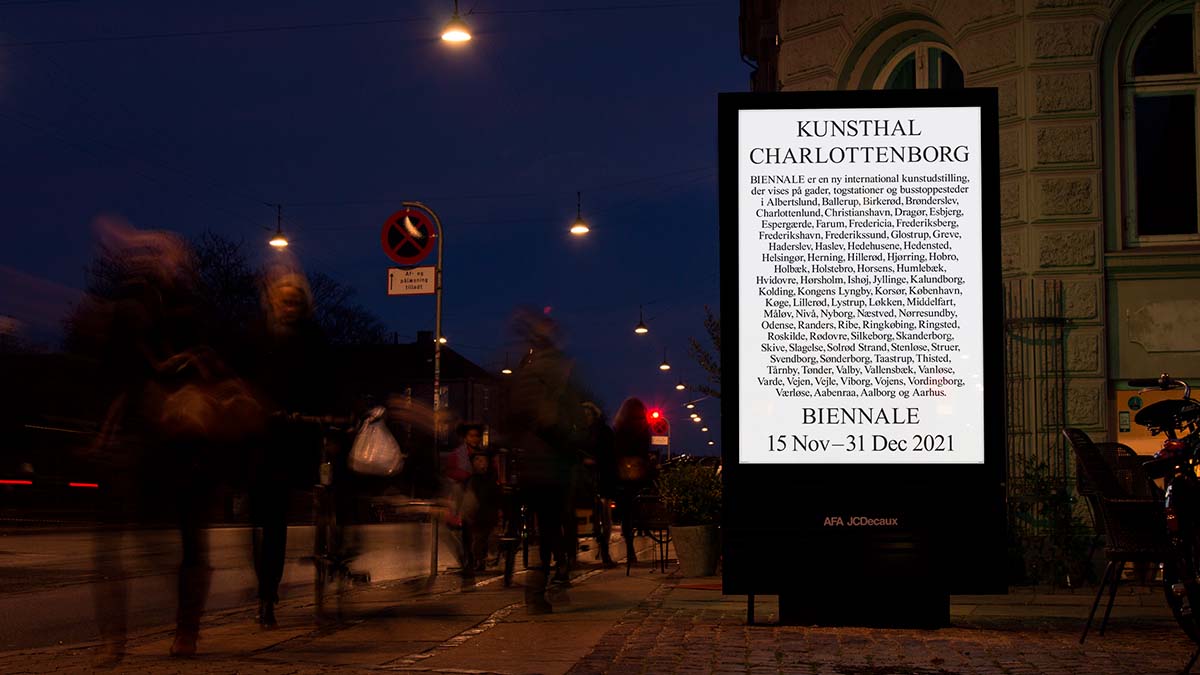 BIENNALE is an all-new art exhibition shown in streets, train stations and bus stops all over Denmark, arranged by Kunsthal Charlottenborg in collaboration with AFA JCDecaux. BIENNALE will be held every other year, and its first instalment is launched this year, beginning on 15 November 2021.
This year's BIENNALE presents the works of 35 Danish and international artists on physical and digital advertising panels throughout Denmark. Kunsthal Charlottenborg has previously collaborated with AFA JCDecaux in 2017 (Yoko Ono – Transmission) and 2019 (It's Urgent!). Now, the partnership has been formalised, ensuring that in future, an international art exhibition will take place in public spaces all over Denmark every two years.
Says director of Kunsthal Charlottenborg, Michael Thouber:
'Our ambition with BIENNALE is to bring contemporary art out to even more Danes. The COVID pandemic years have shown us that the need for shared experiences and injections of artistic poetry is greater than ever. At the same time, we have been forced to think in terms of new and alternative exhibition formats that will be able to reach much wider audiences – even in times of shutdown. For us, AFA JCDecaux is the perfect partner: their distinctive media platforms enable us to bring works of art out into public spaces in virtually all of Denmark'.
Says managing director of AFA JCDecaux, Anders Axelsen:
'At AFA JCDecaux we have always had a keen love of art, and with this collaboration we want to create a space for creative expression and contribute to Danish culture in general. Kunsthal Charlottenborg and AFA JCDecaux share the ambition to reach the next generation all over Denmark through displays of creativity and attention-grabbing messages, and we greatly look forward to collaborating on bringing art out to the entire nation'.
The title of this year's exhibition, the line-up of participating artists and the curators behind it will be announced on 18 October 2021. The works of art featured in this year's BIENNALE will be on display on more than 700 advertising panels in streets, at bus stops and in train stations throughout Denmark from 15 November to 31 December 2021. No less than 84 % of the population will have access to viewing the exhibition on the many advertising panels, and the complete collection of works can be experienced all together from 27 to 31 December 2021 at Nørreport Station and in the courtyard of Kunsthal Charlottenborg in Copenhagen.
BIENNALE is part of Kunsthal Charlottenborg's exhibition programme, which is supported by the Augustinus Foundation, the Obel Family Foundation, the Ministry of Culture and the Danish Arts Foundation.