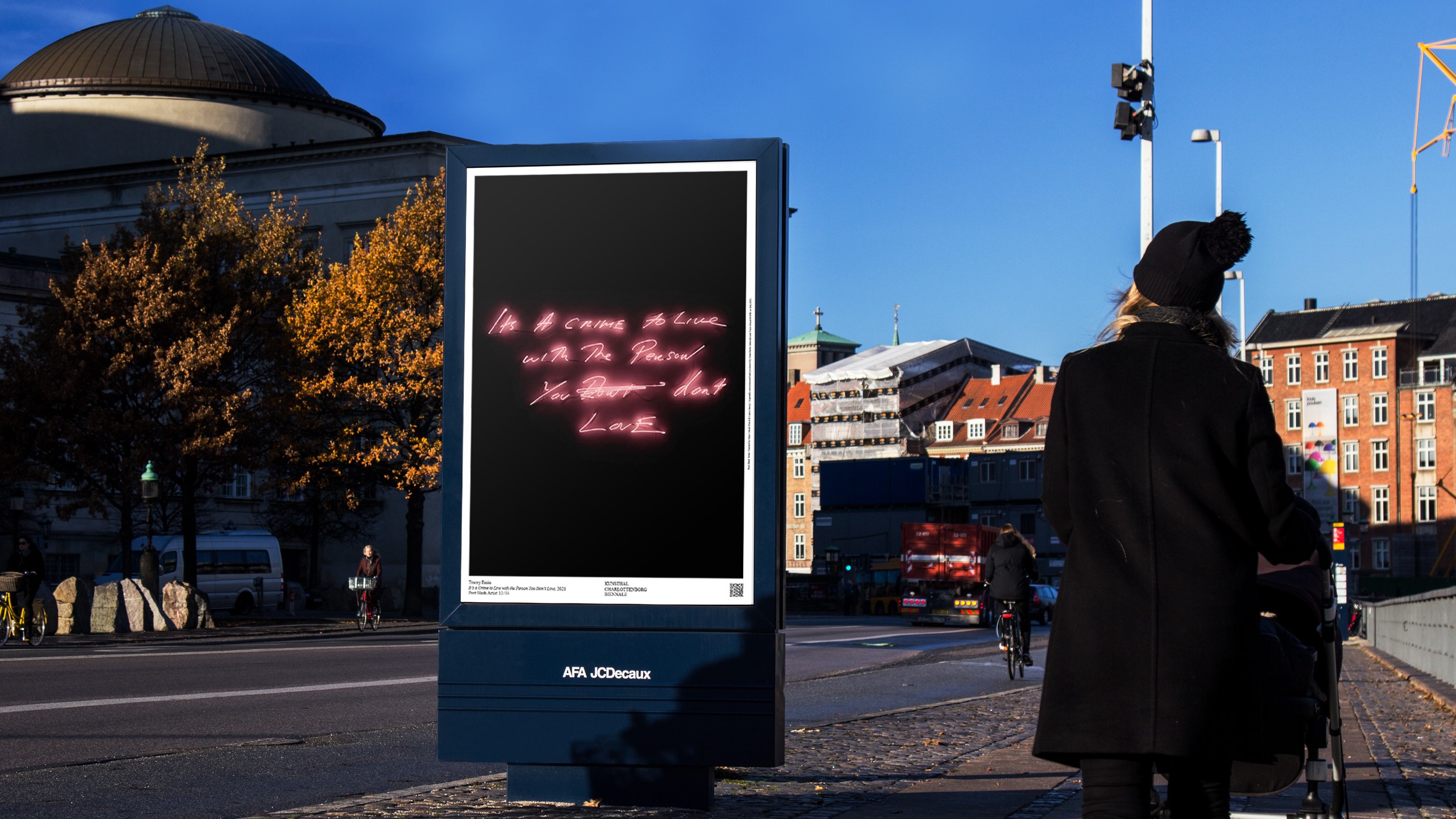 Kunsthal Charlottenborg's first biennale focuses on poetry all over Denmark
In close collaboration with Manchester International Festival and the curators Hans Ulrich Obrist & Lemn Sissay, Kunsthal Charlottenborg launches its first biennale titled Poet Slash Artist. The international art exhibition is shown in the streets, train stations and bus stops all over Denmark.
Kunsthal Charlottenborg's first biennale exhibition Poet Slash Artist presents works by 35 Danish and international poets and artists all over Denmark. Poet Slash Artist, curated by Hans Ulrich Obrist and Lemn Sissay, is an exploration of poets who work with visual art and visual artists who work with poetry. Throughout the history of art and literature, there are more words and images passing between us today than ever before. Poet Slash Artist was originally commissioned and produced by the Manchester International Festival (MIF) and HOME in July 2021 and is now shown in a new version across Denmark bringing together cultures, continents, languages and generations with works by 35 artists and poets.
The curators of Poet Slash Artist, Hans Ulrich Obrist and Lemn Sissay, explains:
– "There's nothing else like this exhibition. It's not a book launch, it's not a performance of poets in the traditional sense, but these artworks are performing. The poems are performing; they're going into the city. As French writer and philosopher Édouard Glissant said, exhibitions need to go beyond the walls of the museum. Many people who would never go to an exhibition could encounter it if it's in the street. The magic happens when someone is walking past, and they engage with a space they wouldn't have otherwise engaged with."
Hans Ulrich Obrist is a Swiss curator and director at Serpentine Galleries in London. He has been selected as number 1 in the art world by the respected art magazine ArtReview that every year makes a top 100 list of the art world's most influential people. Hans Ulrich Obrist has curated a number of shows in the most respected art institutions worldwide, and has previously worked with Kunsthal Charlottenborg as a curator of the exhibitions TAKE ME (I'm Yours) (2016) and It's Urgent! (2019).
Lemn Sissay is a British author and broadcaster. Sissay was the official poet of the 2012 London Olympics, has been chancellor of the University of Manchester since 2015, and joined the Foundling Museum's board of trustees two years later, having previously been appointed one of the museum's fellows. He was awarded the 2019 PEN Pinter Prize. He has written a number of books and plays.
John McGrath, Artistic Director and Chief Executive of Manchester International Festival, is very pleased about the collaboration and that the exhibition now will be shown in Denmark:
"As an international festival, we're so pleased that these extraordinary artworks, which were created for Manchester will be presented by Kunsthal Charlottenborg and displayed across Denmark for millions of Danes to experience. We hope that they will give a sense of togetherness and connection, just as the artists themselves connect words and images."
The exhibition takes place all over Denmark on AFA JCDecaux's 350 nationwide advertising panels, and give an exposure of the works to no less than 84 % of the danish population.
Kunsthal Charlottenborg Biennale Poet Slash Artist is part of Kunsthal Charlottenborg's exhibition program, supported by the Augustinus Foundation, the Obel Family Foundation, the Ministry of Culture and the Danish Arts Foundation.