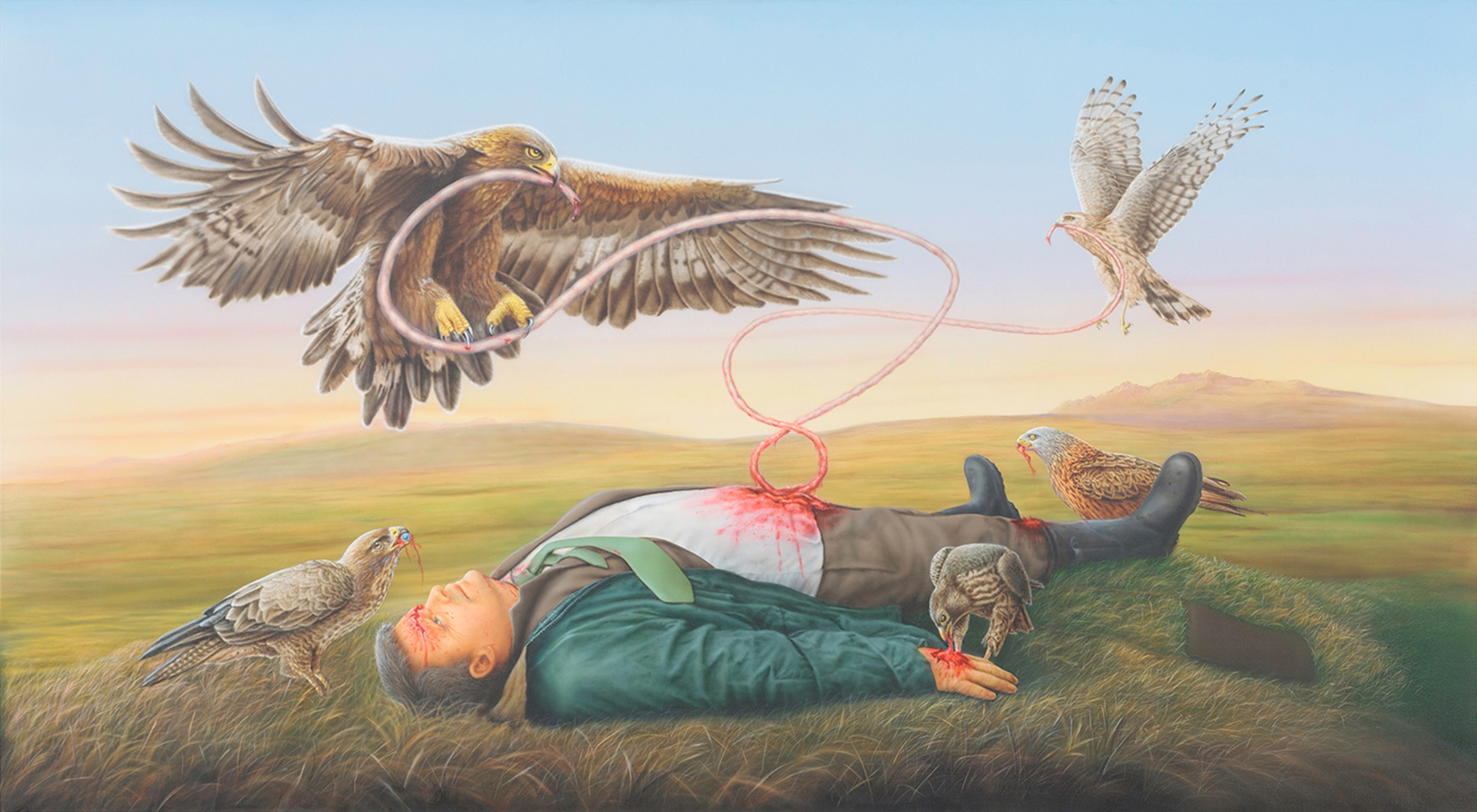 Jeremy Deller takes over Kunsthal Charlottenborg in his first solo exhibition in Scandinavia
On the occasion of CPH:DOX, Copenhagen's international documentary film festival, Kunsthal Charlottenborg presents a solo exhibition with the award-winning British artist Jeremy Deller. Through film, photography, graphic works and sculptural installations the exhibition will accentuate documentary aspects of Deller's practice, which records extraordinary moments of our time.
Jeremy Deller's solo exhibition entitled Welcome to the Shitshow! occupies the entire north wing of Kunsthal Charlottenborg and brings together a wide range of works from the past twenty years and homes in on various aspects of British culture.
First up is the large-scale installation Warning Graphic Content, which consists of an extensive selection of works on paper, graphic arts, prints and posters from the period 1993–2021. Throughout his career, Deller has challenged the idea of the unique and exalted work of art, and in keeping with this approach, the exhibition opens with a kind of retrospective that sets the tone for the following rooms in terms of theme and aesthetic.
The exhibition also includes the film works English Magic, which the artist created for the British pavilion in Venice in 2013, and Putin's Happy from 2019, which documents groups of protesters in front of the British Parliament in London, respectively fighting for and against Brexit – Britain's farewell to the EU. Deller has always been interested in how groups of people come together in a community to engage in a cause, be it politics or music.
In a tightly conceived photo series, photographs from David Bowie's Ziggy Stardust Tour in the UK in 1972 are juxtaposed with visual news reports from British daily newspapers that same year (the miners' strike, the Northern Ireland Troubles, etc.), thereby intertwining defining moments from pop culture with landmark current events. Another work, the film Our Hobby is Depeche Mode from 2006, follows fans of the British band all over the world – from Mexico to Romania, from Iran to Brazil – and examines the sense of connection and cohesive power of being part of a collective movement.
Other works delve further back in history, for example to archaeological finds from prehistoric times and to the Battle of the Somme during World War I, where the British army suffered heavy losses. The exhibition features film documentation of Deller's extensive performative work We're Here Because We're Here from 2016, which marked the 100th anniversary of the Battle of the Somme. For this project, thousands of participants across Britain helped create a living but temporary memorial to the fallen soldiers.
Jeremy Deller (b. 1966, London) is one of Britain's most recognized contemporary artists. He was awarded the prestigious Turner Prize in 2004 and represented Great Britain at the 55th Venice Biennale in 2013. He has had countless solo exhibitions and film screenings, and has exhibited all over the world including Buenos Aires, Hong Kong, Mexico City, New York City, Moscow, Singapore, and Tokyo.
Curated by Henriette Bretton-Meyer, this exhibition is realised in collaboration with CPH:DOX and supported by the Augustinus Foundation, the Danish Arts Foundation, and the Obel Family Foundation.
Program for the opening
Kunsthal Charlottenborg and CPH:DOX present a special evening with one of the most renowned contemporary artists on the occasion of the opening of his exhibition Welcome to the Shit Show!.
10.00 – 21.00: Welcome to the Shitshow!
The exhibition is open. Free admission. Further info here.
11.30 – 19.30: Eight Hour Rock Show
Film program curated by Jeremy Deller. Free admission. Further info here.
17.00-21.00: Opening reception and drinks for the first visitors.
17.00 – 20.00: Mira Campau plays music in the upper foyer and the bar is open.
17.10 – 17.20: Welcome by Niklas Engstrøm, Artistic Director at CPH:DOX, and Henriette Bretton-Meyer, Curator at Kunsthal Charlottenborg.
20.00 – 21.00: Depeche Mode, my part in their downfall, and other stories
Artist talk with Jeremy Deller followed by a party and DJ sets. Further info here.
Tickets at cphdox.dk.