Legendary artist group presents special exhibition in a shop during Kunsthal Charlottenborg Biennale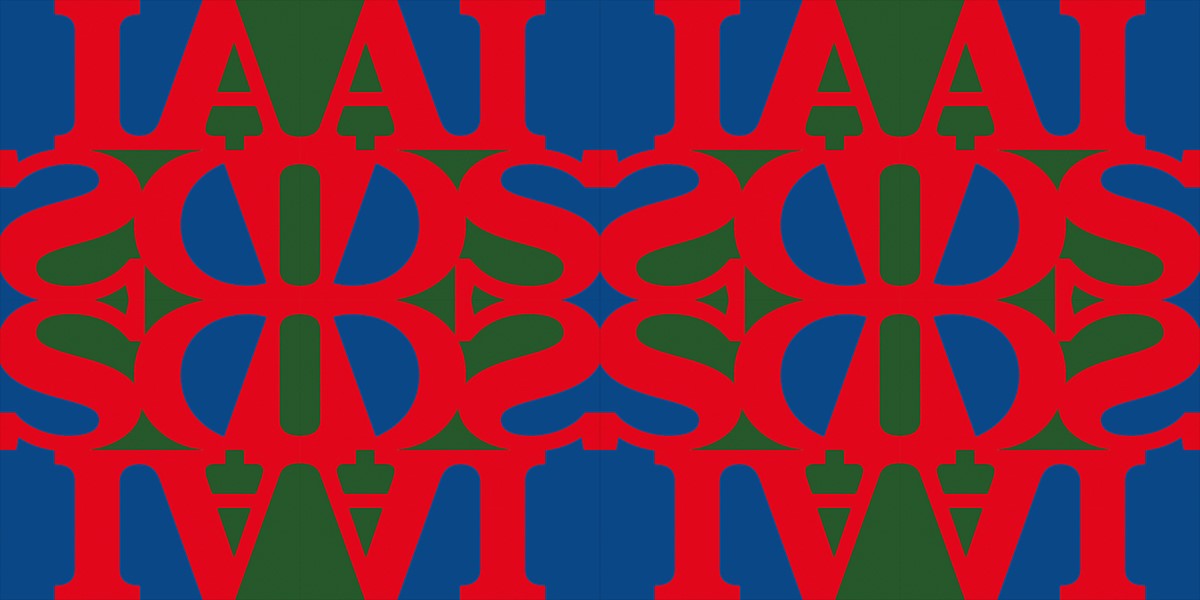 Kunsthal Charlottenborg Biennale is an international art exhibition on streets, train stations and bus stops all over Denmark. In the 2023 edition, the biennale will also occupy a store in central Copenhagen with a special display of the pioneering work AIDS by the legendary artist group General Idea.
Kunsthal Charlottenborg Biennale focuses on different forms of distribution of art and this time poses the question: What would artists advertise today?
When the Canadian artist group General Idea created the artwork AIDS in 1987 and distributed it in the cityscape, it was precisely a pioneering example of a different way of spreading an artistic message that caused a sensation all over the world.
In collaboration with The Cultural Institute of Radical Contemporary Arts (CIRCA) in London and e-Types in Copenhagen, Kunsthal Charlottenborg is now presenting a special display of the artwork as a full installation in a shop at Vaernedamsvej 6 in Copenhagen.
Kunsthal Charlottenborg's director, Michael Thouber, states:
"General Idea are pioneers and their artwork AIDS cannot be underestimated. The work shocked when it was published because AIDS was taboo, but at the same time it managed to open a conversation about a pandemic in a time when a lack of information surrounded the disease. That is why we are immensely proud to now be able to show this special version of the work in Denmark."
General Idea's work visually mimics American pop artist Robert Indiana's iconic work LOVE, which at the time appeared on items including key rings, cocktail napkins, stamps, etc. By replacing the word "LOVE" with "AIDS", General Idea wanted to raise awareness of AIDS and break with the stigma surrounding the most feared disease of the time.
Previously, the group's sole remaining member AA Bronson has explained:
"Our intention with this work was for it to play the role of a virus itself…that it would spread in the culture and create a visibility for the word 'AIDS' so that it could not be swept under the carpet."
In the store at Vaernedamsvej 6 in Copenhagen, audience will be able to experience wallpaper, graphic prints and a special animated video version of the work which launched in collaboration with CIRCA in London on World AIDS Day in 2021.
Kunsthal Charlottenborg Biennale also shows smaller excerpts of the artwork on digital screens across most of Denmark in collaboration with AFA JCDecaux. A total of 23 artists and artist groups are contributing to this year's biennale with artworks on advertising screens in multiple cities across the country. The participating artists are:
Akeem Smith, Bless (Desiree Heiss and Ines Kaag), CATPC (Congolese Plantation Workers), Eric Andersen, General Idea, Hans-Peter Feldmann, KAWS, Koo Jeong A, Luki von der Gracht, Maja Malou Lyse & Esben Weile Kjær, Martine Syms, Minerva Cuevas, Michael Rakowitz, Pippa Garner, Rasheed Araeen, Rosemarie Trockel, Serapis Maritime, Shuang Li, Sungsil Ryu, SUPERFLEX, Tromarama, Yinka Shonibare CBE, Yugoexport/Irena Haiduk.
The artwork AIDS by General Idea in the store is displayed in collaboration between CIRCA, e-Types, Kunsthal Charlottenborg, and AFA JCDecaux. The biennial titled Public Structures is curated by Hans Ulrich Obrist and Jeppe Ugelvig and builds on Kunsthal Charlottenborg's previous nationwide exhibitions Yoko Ono – Transmission (2017), It's Urgent! (2019) and Poet Slash Artist (2021).
Kunsthal Charlottenborg Biennale is produced in collaboration with AFA JCDecaux and supported by The Augustinus Foundation, The Danish Arts Foundation, The Obel Family Foundation.
Facts about General Idea & CIRCA
General Idea originally created the work as a contribution to an exhibition in 1987 in support of the American Foundation for AIDS Research. The group's two other members, Felix Partz and Jorge Zontal, were themselves diagnosed as HIV-positive in 1989 and 1990, respectively. The group's activity ended in 1994 due to the deaths of Zontal and Partz from AIDS-related causes. The last member, AA Bronson, is still active and has been involved in the screening in Copenhagen.
The Cultural Institute of Radical Contemporary Arts (CIRCA) in London commissions new ideas from emerging and established artists. Broadcasting each day at 20:23 across a global network of screens. Further info here: circa.art
Pracatical information
Kunsthal Charlottenborg Biennale: Public Structures
23 June – 23 July 2023
Press view: 23 June at 11.00-12.00, Copenhagen Central Station (under the clock)
The artworks will be displayed:
19 – 26 June: Copenhagen Central Station
23 June – 23 July: Special exhibition by General Idea, Vaernedamsvej 6, Copenhagen, opening hours Thur-Fri 15-18, Sat 12-15
26 June – 23 July: Kunsthal Charlottenborg, in the courtyard
3 – 16 July: All over Denmark
Free admission to the exhibition
Further info here