Charlottenborg Art Cinema
'Efterrystelser' Kurateret af Mai Takawira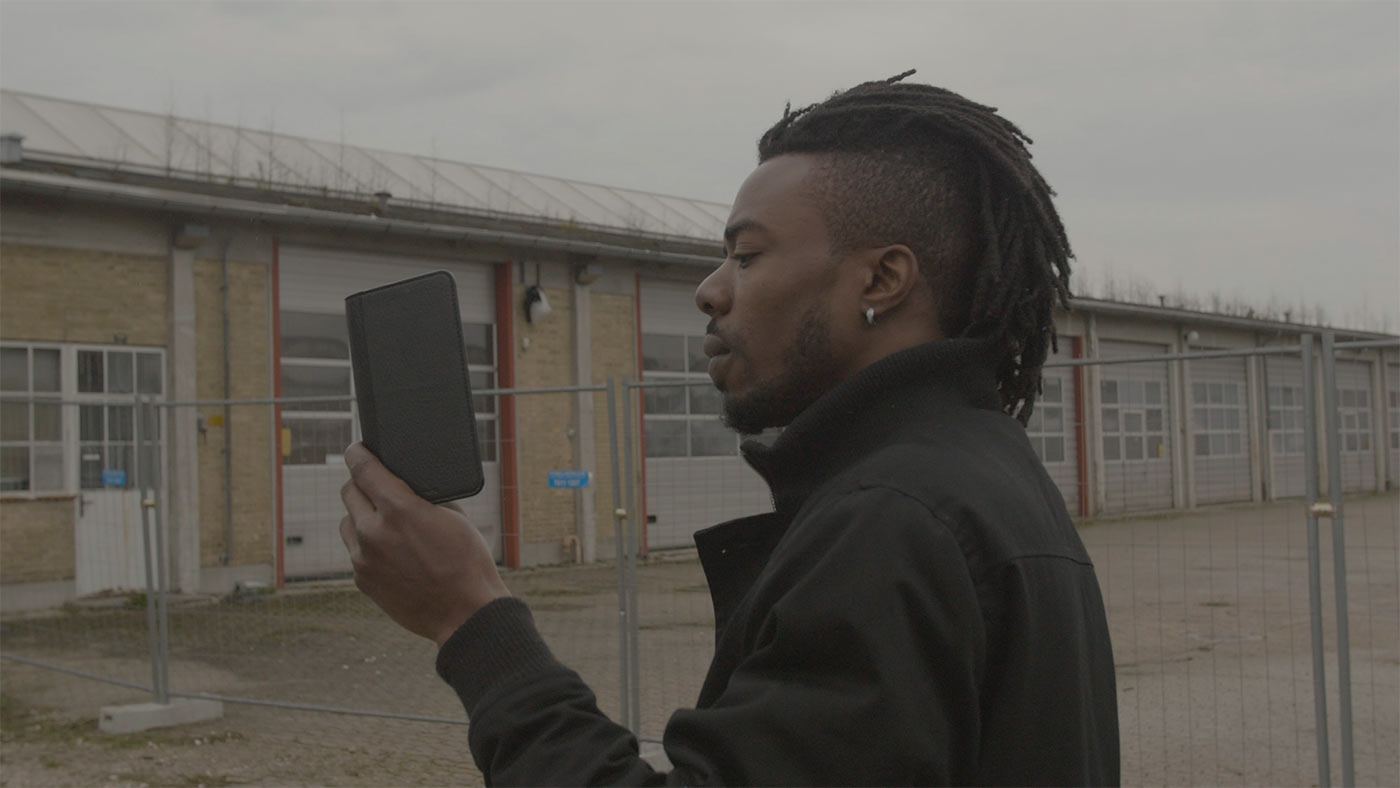 I 'In The Wake: On Blackness and Being' beskriver Christina Sharpe, hvordan Sort tilblivelse stadig udfolder sig i og imod slaveriets efterliv. Det transatlantiske slavehandel har efterladt den Sorte krop i en uafklaret tilstand, en fortsat rystelse, hvor denne vipper mellem tilsynekomst og opløsning. Liv og død. Det er som "skibets spor efterladt på havets overflade; en bevægelse fremkaldt af en svømmende eller flydende krop i vandet" , skriver hun. Kampen om at få luft, og mod at forsvinde i slipstrømmen, fortsætter.
Christina Sharpe er rundet af en afrikansk-amerikansk erfaring, men mordet på George Floyd sendte bølger igennem det globale landskab, fordi anti-sorthed findes globalt. Fordi fortidens koloniale og slavegørende mønstre stadig presser sig på, og gør Sorte menneskers værdi uafklaret i en vestlig dominerende optik. Fordi slipstrømmen strækker sig fra Atlanterhavet til Middelhavet. Filmprogrammet indeholder en række udvalgte dokumentarfilm, dokumentationer og videoværker, som henleder opmærksomheden på efterrystelser lokalt eller forbundne til "en dansk virkelighed". I serien interveneres der i museumsrummet, i skriften, arkivet, asylsystemet og i EU's grænsepolitik. En ophobning af ulydighed manifesterer sig, mens der stilles spørgsmålstegn ved nutidige og fortidige praksisser, og deres rolle i forhalelsen af Sorte liv. Samtidig skabes en bevægelse, et modtryk, en insisteren på at eksistere; på at Sorte liv betyder noget.
Tekst af Mai Takawira
Foto: still from Cast Away Soul by Stanley Edward, Nanna Katrine Hansen, Thomas Elsted, Markus Fiedler.
Filmprogram
Emil Elg: Hvis du er hvid er du min fjende / Når jer ser et rødt flag smælde, 2016 (21.16 min.)
Stanley Edward, Nanna Katrine Hansen, Thomas Elsted, Markus Fiedler: Cast Away Souls, 2019 (34.00 min.)
Forensic Architecture: Pushbacks at the Melilla Border Fence: N.D and N.T. V Spain, 2014-17 (14.00 min.)
Grada Kilomba: WHILE I WRITE: Act III of The Desire Project, 2016. (2,34 min.)
Jeannette Ehlers: Black is a Beautiful Word. I & I (encountering the Danish colonial archive), 2019. (4.47 min.)
For yderligere information om de udvalgte film se Kunsthal Charlottenborg's app.
Charlottenborg Art Cinema er Kunsthal Charlottenborgs biograf, der befinder sig på kunsthallens mezzanin på 1. sal. Biografens program sammensættes af forskellige kuratorer – både eksterne og fra organisationen selv. Filmvisningerne i biografen er gratis, når entréen til kunsthallen er betalt. Læs mere om de individuelle filmvisninger i vores kalender for events og på Facebook.
AKTUELT PROGRAM
28 Nov – 2 Jan
I forbindelse med udstillingen YOKO ONO TRANSMISSION er Charlottenborg Art Cinema glade for at kunne præsentere et omfattende program med multikunstneren Yoko Onos film fra 1960'erne og frem. Filmprogrammet kan opleves tirsdag-søndag i kunsthallens åbningstider i perioden 28. november 2017 til 2. januar 2018, med mindre der er særlige events i biografen. Programmet byder både på en perlerække af Yoko Onos egne film og Fluxus-værker såvel som en håndfuld af de film, hun lavede i samarbejde med ægtemanden John Lennon.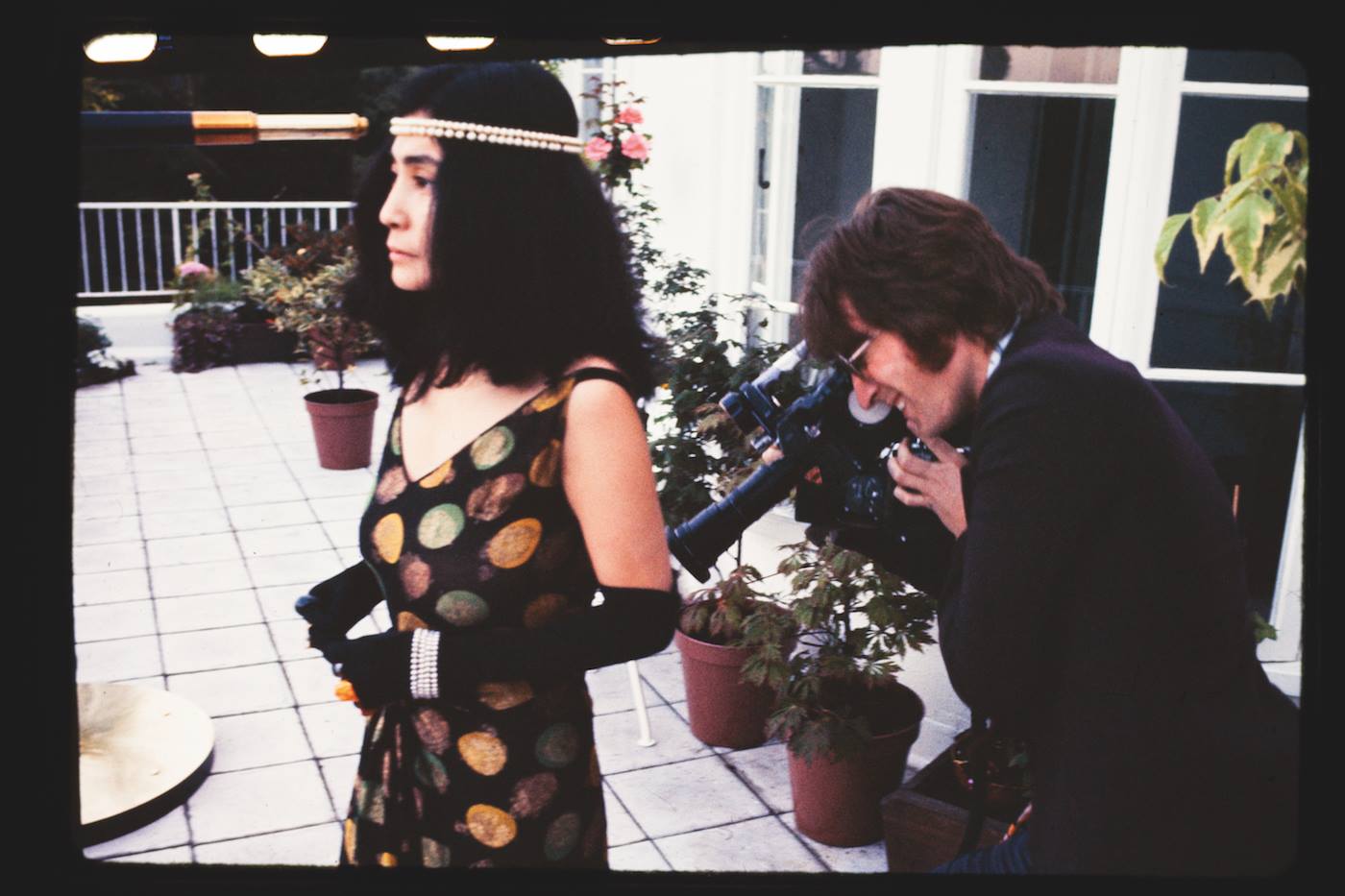 Yoko Ono har gennem sin karriere brugt sin kunst til at promovere budskaber om fred og ligestilling, hvilket i høj grad også kommer til udtryk i hendes ofte konceptuelle og eksperimentelle film – ikke mindst i de værker, hun lavede i samarbejde med John Lennon.
Som en del af filmprogrammet vil du bl.a. kunne opleve klassikere som Bed Peace (1969) og Imagine (1972). Bed Peace dokumenterer, da John og Yoko inviterede den globale presse ind i deres honeymoon-suite på Hilton Hotel i Amsterdam, hvor de – fra deres seng – protestede imod Vietnam Krigen ved at diskutere fred i 12 timer om dagen. Imagine, der har samme titel som Lennons legendariske album fra 1971, blev oprindeligt lavet til tv og følger John og Yoko i deres hjem Tittenhurst Park i Ascot, England til soundtracket fra Imagine-albummet. Dertil kommer konceptuelle film som Film No 5 (SMILE) (1968), der i 50 minutter viser et close-up af Johns (smilende) ansigt, og FLY (1970), hvori en flue vandrer omkring på en nøgen kvindekrop.
Som en del af filmprogrammet kan ligeledes opleves feministiske film som RAPE (1969) og FREEDOM (1970), der begge adresserer emner som seksualitet og intimitet; konceptuelle film som den legendariske Cut Piece (1965), der dokumenterer en performance af samme navn, hvor Yoko Ono inviterede publikum til at klippe hendes tøj i stykker; Fluxus-værker som Film No 2 (Eyeblink) (1966) og Film No 4 (Bottoms) (1967) samt nyere filmværker som ARISING (2015).
PROGRAM
Tirsdag-fredag
12.00-12.50: Yoko Ono — Film No. 5 'Smile' (1968). Directed by Yoko Ono
12.50-13.05: Yoko Ono — ARISING (2013). Directed by Yoko Ono
13.05-13.06: Yoko Ono — FREEDOM (1971). Directed by Yoko Ono
13.06-14.06: Yoko Ono and John Lennon — RAPE (1968). Directed by Yoko Ono and John Lennon
14.06-14.08: Yoko Ono — Film No. 2 'Eyeblink' (1966). Directed by Yoko Ono
14.08-15.19: Yoko Ono and John Lennon — Bed Peace (1969). Directed by Yoko Ono and John Lennon
15.19-16.38: Yoko Ono — Film No. 4 'Bottoms' (1967). Directed by Yoko Ono
16.38-16.45: Yoko Ono — The Museum of Modern Art Show (1971). Directed by Yoko Ono
16.45-17.52: Yoko Ono and John Lennon — Imagine (1971). Directed by Yoko Ono and John Lennon
17.52-18.01: Yoko Ono — Cut Piece (1964). Filmed March 21, 1965, Carnegie Recital Hall, New York City. Directed by The Maysles Brothers
18.01-18.24: Yoko Ono — FLY (1970). Directed by Yoko Ono and John Lennon
18.25-18.55: BBC TV — 24 Hours — The World of John and Yoko (1969). Directed by Paul Morrison
18.55-19.05: Yoko Ono — Cut Piece (1964). Filmed March 21, 1965, Carnegie Recital Hall, New York City. Directed by The Maysles Brothers
19.05-19.10: Yoko Ono — Painting To Shake Hands (2012). Directed by Yoko Ono
19.10-19.15: Yoko Ono — Film No. 1 'Match' (1966). Directed by Yoko Ono
19.15-19.18: Yoko Ono — Film No. 2 'Eyeblink' (1966). Directed by Yoko Ono
19.18-19.24: Yoko Ono — Walking On Thin Ice (music video) (1981). Directed by Yoko Ono
19.25-19.40: Yoko Ono — ARISING (2013). Directed by Yoko Ono
19.40-19.47: Yoko Ono — The Museum of Modern Art Show (1971). Directed by Yoko Ono
19.47-19.49: Yoko Ono — Film No. 2 'Eyeblink' (1966). Directed by Yoko Ono
19.49-19.58: Yoko Ono — Cut Piece (1964). Filmed March 21, 1965, Carnegie Recital Hall, New York City. Directed by The Maysles Brothers
Lørdag-søndag
11.00-11.05: Yoko Ono — Film No. 1 'Match' (1966). Directed by Yoko Ono
11.05-11.08: Yoko Ono — Film No. 2 'Eyeblink' (1966). Directed by Yoko Ono
11.08-12.15: Yoko Ono and John Lennon — Imagine (1971). Directed by Yoko Ono and John Lennon
12.15-13.34: Yoko Ono — Film No. 4 'Bottoms' (1967). Directed by Yoko Ono
13.34-13.41: Yoko Ono — The Museum of Modern Art Show (1971). Directed by Yoko Ono
13.41-14.05: Yoko Ono — FLY (1970). Directed by Yoko Ono
14.05-14.15: Yoko Ono — Cut Piece (1964). Filmed March 21, 1965, Carnegie Recital Hall, New York City. Directed by The Maysles Brothers
14.15-15.26: Yoko Ono and John Lennon — Bed Peace (1969). Directed by Yoko Ono and John Lennon
15.26-15.56: BBC TV — 24 Hours — The World of John and Yoko (1969). Directed by Paul Morrison
15.56-16.02: Yoko Ono — Walking On Thin Ice (music video) (1981). Directed by Yoko Ono
16.03-16.52: Yoko Ono — Film No. 5 'Smile' (1968). Directed by Yoko Ono
TIDLIGERE PROGRAM
26 Oct – 19 Nov
William E. Jones Fall Into Ruin (2017) – 30 minutes
Wu Tsang Mishima in Mexico (2012) – 14 minutes
Zackary Drucker & Rhys Ernst She Gone Rouge (2012) – 28 minutes
16 Sep – 12 Oct / CHART Film programme
Marina Abramović The Current (2017) – 60 minutes
Alex Da Corte TRUƎ LIFƎ (2013) – 3 minutes 44 seconds
Maria Friberg Matador (2016) – 13 minutes 47 seconds
NUG Territorial Pissing, Second Version (2007/2011) – 2 hours 15 minutes 8 seconds
Sigurður Guðjónsson Distance (2012) – 9 minutes 48 seconds
Steina Distant Activities (1972) – 4 minutes 48 seconds
Tuomas A. Laitinen The Powder of Sympathy (2015) – 8 minutes 36 seconds
Tomás Saraceno CLOUD / TIME (2016) – 12 minutes 40 seconds
1 Feb – 8 Feb / 11-17 (loop)
John  Akomfrah On Essays, Identities and Stuart Hall (video interview, 8:20 min)
Richard Mosse The Impossible Image (video interview, 7:21 min)
Premiere: Ons / Wed 1 Feb, 18.30 / 6.30pm
8 Feb – 15 Feb / 11-17 (loop)
Eileen Myles A Poet in the Art World (video interview, 7:35 min)
Frieze At Home with John Waters (video interview, 6:38 min)
Premiere: Ons / Wed 8 Feb, 18.30
Ons / Wed 15 Feb, 18.30 / 6.30pm (Talk & Film Screening)
Talk: Mette Hoffmann Meyer – World Stories
Film: World Stories: Please Vote For Me
(I samarbejde med / In collaboration with The Why Foundation)
Ons / Wed 22 Feb, 17.00 / 5pm (Film Screening)
World Stories: Dancing Boys of Afghanistan
(I samarbejde med / In collaboration with The Why Foundation)
Ons / Wed 1 Mar, 19.00 / 7pm (Film Screening)
World Stories: Miners Shot Down
(I samarbejde med / In collaboration with The Why Foundation)
Ons / Wed 8 Mar, 19.00 / 7pm (Film Screening)
World Stories: Innocent on Death Row
(I samarbejde med / In collaboration with The Why Foundation)
Ons / Wed 15 Mar, 17.00 / 5pm
CPH:DOX
Ons / Wed  22 Mar, 17.00 / 5pm
CPH:DOX
Ons / Wed  29 Mar, 17.00 / 5pm (Talk & film programme)
Toke Lykkeberg: Welcome Too Late
Ons / Wed  5 Apr, 17.00 / 5pm
Film programme: Welcome Too Late
Ons / Wed  12 Apr, 17.00 / 5pm
Film programme: Welcome Too Late
Ons / Wed 19 Apr, 17.00 / 5pm
Film programme: Welcome Too Late
Ons / Wed 26 Apr, 17.00 / 5pm (Talk & Film Screening)
Joachim Hamou: United Israel Palestine UIP27

Ons / Wed 3 Maj, 17:30 / 5.30pm (Talk & Film Screening)
Copenhagen Architecture Festival: Tales from Paradise
Fre / Fri 6 Maj, 15:00 / 3pm (Filmscreening)
Copenhagen Architecture Festival: Den usynlige by / Flotel Europa
Ons / Wed 10 Maj, 17:00 / 5pm (Talk & live video performance)
Sam Smith: "E.1027"
Ons / Wed 10 Maj, 18:30 / 6.30pm (Filmscreening)
Maria Lassning: Art Education + Shapes 
Ons / Wed 17 Maj, 17:00 / 5pm (Talk & Filmscreening)
Et Tværæstetisk Samarbejde
Ons / Wed 14 Jun, 17:00 / 5pm (Talk & Filmscreening)
Other Story: Young Refugee
Ons / Wed 21 Jun, 17:00 / 5pm (Filmscreening)
Lise Autogena & Joshua Portway: Kuannersuit; Kvanefjeld